Robert Pattinson Emerges In NYC, Will Ring The NYSE Bell For Cosmopolis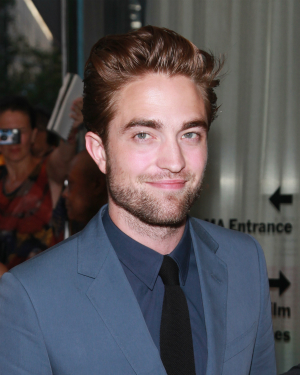 Kicking off a media blitz of post-scandal promotion for David Cronenberg's Cosmopolis, Robert Pattinson taped his first one-on-one interview with Jon Stewart tonight, hit the film's NYC premiere, and is slated to appear Tuesday at the New York Stock Exchange to ring the Opening Bell. Folks familiar with the Don DeLillo book on which Cosmopolis is based, however, know that having financial prodigy/bored billionaire Eric Packer at the controls of America's financial infrastructure would be, in fact, a terrible idea. But anyway! RPattz alert!

Pattinson stars as Packer in Cronenberg's Cosmopolis, which opens Friday in limited release and should prove an even more fascinating career milestone for the Twilight idol then previously thought, given girlfriend Kristen Stewart's headline-grabbing dalliance with Snow White and the Huntsman director Rupert Sanders. Pattinson's media tour, after weeks of hiding out in relative seclusion, also heralds his most thematically-ambitious, challenging project to date and will redefine how many mainstream critics and audiences perceive him.
The RPattz tour began tonight at the film's premiere in New York (see above picture of Pattinson in appropriate "I Will Survive" outfit) with an appearance on The Daily Show, which according to Tweets from folks in the audience like devoted Pattinson blogger @tinkrbe1l3, does cover the Stewart betrayal:
Tomorrow morning at 9:30 am, Pattinson and Cronenberg will ring the NYSE bell, followed by a visit to Good Morning America and New York Times chat on Wednesday and a massive 30-minute sit-down with MTV on Thursday. In any case, it's all good publicity for The Cronenberg, right? Middle America and the Twilight faithful, get ready to see RPattz like never before. You really probably are not at all ready for this jelly.
Cosmopolis Synopsis:
From director David Cronenberg (A HISTORY OF VIOLENCE, DEAD RINGERS, THE FLY, EASTERN PROMISES) and based on the prophetic novel by Don DeLillo, comes COSMOPOLIS, a contemporary thriller that turns into a wild, hypnotic odyssey through our new millennium's obsessions with power, money, control, information, technology, violence, sex, mortality, revolution, destruction and ultimately, redemption.

Unfolding in a single cataclysmic day, the story follows Eric Packer (Robert Pattinson) – a 28-year old financial whiz kid and billionaire asset manager – as he heads out in his tricked-out stretch limo to get a haircut from his father's old barber, while remotely wagering his company's massive fortune on a bet against the Chinese Yuan. Packer's luxe trip across the city quickly becomes dizzyingly hellish as he encounters explosive city riots, a parade of provocative visitors, and is thrust into a myriad of intimate encounters. Having started the day with everything, believing he is the future, Packer's perfectly ordered, doubt-free world is about to implode. Produced by Paulo Branco and Martin Katz, COSMOPOLIS also stars Juliette Binoche, Sarah Gadon, Mathieu Amalric, Jay Baruchel, Kevin Durand, K'Naan, Emily Hampshire with Samantha Morton and Paul Giamatti. COSMOPOLIS will be opening in New York at the Landmark Sunshine Cinema and the Elinor Bunin Munroe Film Center on August 17th.
Follow Jen Yamato on Twitter.
Follow Movieline on Twitter.