New Trailer: Is Cosmopolis the Best Career Move Robert Pattinson Has Ever Made?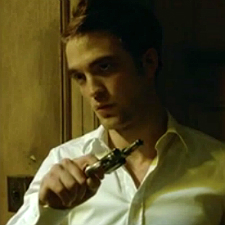 I mean, being plucked from the Harry Potter supporting wings and the odd pre-fame arthouse pic for eternal teen vampire glory aside, signing on for David Cronenberg's Cosmopolis looks more and more like the best decision Robert Pattinson has ever made. Now that the edgy adaptation of Don DeLillo's 2003 novel is heading for a Cannes debut -- and with the fearlessly cold, cynical swagger RPattz displays in the latest Cosmopolis trailer -- this is shaping up to be the career-changer the erstwhile Edward Cullen has been looking for.

Close Pattinson-watchers already gleaned as much while keeping tabs on the project as it filmed, and devoted fans have been championing his turn as a rascally womanizer in the upcoming period pic Bel Ami as a move against type. (Whether or not they'll turn out come opening day is another story.) But the new Cosmopolis trailer and Cannes announcement achieves something no mainstream romantic vehicle could do for Pattinson: It suggests to the uninitiated that there's something more to him than teen idol fare.
That was evident in the 30-second teaser released last month, but the full trailer reveals a clearer peek into the psyche of Pattinson's protagonist Eric Packer -- rich, cynical, destructive. Knowing danger is right around the corner, he launches himself into a chaotic 24-hour Manhattan bender filled with sex, gunplay, and anarchic shenanigans. "It makes me feel free in a way I've never known," he says. I'm sure it does, RPattz.
[vodpod id=Video.16394094&w=630&h=350&fv=]
Now, Pattinson aside -- the trailer also gives us Kevin Durand as Packer's bodyguard Torval and Jay Baruchel as Shiner, his tech consultant, both of whom make this even more intriguing for me.
Cosmopolis will screen at Cannes.
[Allocine via The Playlist]