Cannes: Where Are All the Tacky Movie Ads?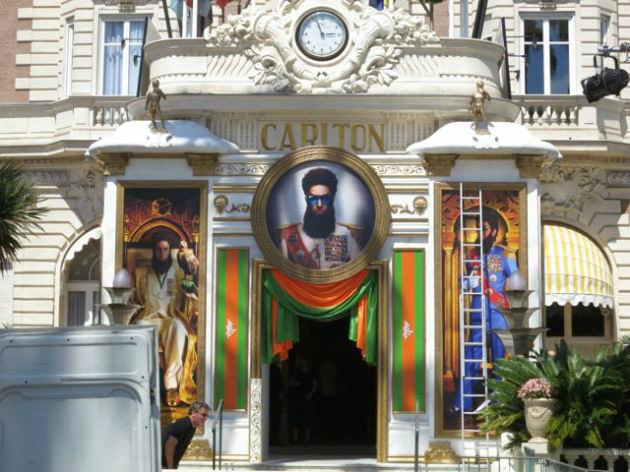 Long queues formed outside the Palais des Festivals this afternoon in Cannes as attendees mobbed the building waiting to pick up their credentials. Marilyn Monroe presided over the scene; the now familiar image of the legendary actress blowing out a candle is this year's official image/poster of the 65th Festival de Cannes, which kicks off tomorrow evening with the debut of Wes Anderson's Moonrise Kingdom, the first of 12 nights of red carpet premieres.



While Marilyn adorned the facade of the Palais, the hive of festival activity, a quick stroll down the seaside Blvd de la Croisette revealed a tiny surprise at least perhaps for those who return year after year. There are surprisingly little in the way of gaudy movie ads covering some of Cannes' beachfront hotels, usually a festival staple. Even the historic Carlton Hotel at the center of the Croisette, which is usually peddling any and all so-called movies from anything playing in the Official Selection to the Cannes Market or — hey, even if it's not in Cannes, who cares — would cover its ornate facade. But unless crews are simply behind in their schedule, the hotel was surprisingly free of its usual tacky ads. What happened?
True, the economy is flat in France and with today's inauguration of the country's first socialist president this century, speculation has arisen in Europe whether Germany and their Gaullist partners will be able to maintain a united front for austerity. And of course, the political crisis in Greece has meant a steady decline in the Euro. Perhaps not great for Europe, but a small windfall for hordes of Americans attending the festival. But this is Cannes and the marina is still packed with zillion dollar yachts and the cafés are still jammed with people buying over-priced fare.
But perhaps there has been some shift. Deadline reported that studios are cutting back on galas, preferring cheaper regional fetes to the estimated $1.5M to $3M price tags that Cannes can command. So, maybe those normally ubiquitous treats featuring the latest project starring Paris Hilton or Jean-Claude Van Damme or whoever will be less of a visual assault this year. Still, the Carlton is not ads-free. The ever-ubiquitous dictator himself, Sacha Baron Cohen, greets guests with his military finest. Tom Cruise's mug adorns the hotel's outdoor café for his December thriller One Shot, directed by Christopher McQuarrie (incidentally, he is also the writer for Top Gun 2) and Spidey, as in The Amazing Spider-Man, sits squarely near the hotel's roof.
Of course, it's not just the Carlton that cashes in on their prime location blaring out their sponsors' wares for top doll-- err, euro. Brian De Palma's Passion received some recent press after an image of stars Rachel McAdams and Noomi Rapace moving in for a smooch hit the internet. Their sexy rendezvous covers two floors of a nondescript Croisette building, while Quentin Tarantino's Django Unchained reigns over a prominent spot very close to the Palais in front of the chic Majestic Hotel. A quick scan at the credits confirms that Christoph Waltz, Leonardo DiCaprio and Samuel L. Jackson are in fact still starring in the film...


Stay tuned for more reports from the Cannes Film Festival.
Follow Brian Brooks on Twitter.
Follow Movieline on Twitter.