Werner Herzog Talks One Shot, Tom Cruise: 'He Means Business'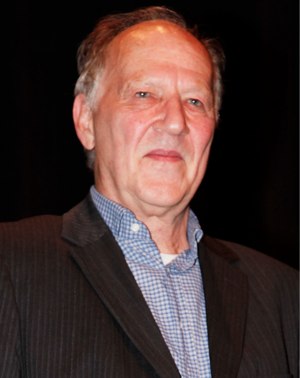 Renowned for his prolific, fearless filmmaking, Werner Herzog is in fact nothing if not a polymath: Opera director, guerrilla film-school proprietor, diarist and author, septi-continental gadabout, and actor for hire (among other interests). It's this latter quality that he and I discussed briefly today as he made the rounds for his new capital-punishment doc Into the Abyss -- a diametric opposite to the biggest onscreen gig he's taken to date.
Word came down last month that Herzog would co-star in One Shot, writer-director Christopher McQuarrie's adaptation of the bestselling thriller by novelist Lee Child. The ninth in the series of Child's thrillers featuring ex-military investigator Jack Reacher, One Shot centers around the tough guy's attempt to hunt down the cold-blooded sniper responsible for five murders in a small town, and as if the project didn't attract enough notoriety for having Tom Cruise as its leading man and co-producer, McQuarrie intensified the spotlight by casting Herzog as Reacher's trigger-happy adversary known simply as The Zec.
The role will supply Herzog with his highest-profile screen performance yet, one about which we spoke today in New York.
So I've read that you're acting again?
Yes, I am acting again. I'm fairly good as an actor when it comes to roles of hostile or dangerous guys, or violent and debased and dysfunctional characters. And of course, since this is a big Hollywood film, they have studied my performance in other films. So I was not involved in any casting; I was just invited.
Why do you think that was?
Because I'm good! You see, when it comes to an expensive film, you can't fool around and make a choice of somebody who is known as a filmmaker. If you are bad as an actor, it may really damage the film. So they apparently took a very close look -- I mean, the director, the producer, Tom Cruise -- they took a good look at what I am onscreen as an actor.
But why do you think you're so good at it?
I don't know. Well, I like everything that has to do with cinema: writing, directing, editing, acting... Just everything. And of course I know what I should do and what I should not do. I wouldn't accept a part in a movie where I thought I couldn't manage it. In a way, for example, this is why I accepted a guest part in The Simpsons. And I'm good in there. I'm the voice of the plastic bag in Ramin Bahrani's film Plastic Bag. And I'm good in Harmony Korine's Julien Donkey Boy.
Cruise is an interesting actor to me -- someone who's never directed, but who's instead worked with some of the foremost filmmakers of the last half-century: Kubrick, Scorsese, Coppola, Spielberg, and many others. Have you met him?
Yes.
What do you think of his regard for filmmakers? Do you think his wanting to work with you in this context was because he probably wouldn't have the chance otherwise?
No, he does not work with me. He works with the director, Chris McQuarrie. I'm only a partner in crime onscreen. But let me try to describe him: Yes, he has worked with some very, very good -- very good -- serious filmmakers. But what strikes me is that sometimes you can tell from five miles' distance: "This is a professional man. He means business." He's extremely well-prepared, very good to work with, very respectful -- a very kind human being. And you can tell, strangely enough, from five miles' distance.
McQuarrie aside, being on this set is probably as close to working with you as Tom Cruise is going to get, considering the films you make.
Not necessarily, because the kind of films he has been into -- like Mission: Impossible -- I'm convinced that... I don't even know who made Mission: Impossible. Who directed Mission: Impossible?
The first one was Brian De Palma.
OK. Brian De Palma is certainly the better director than me.
Really?
If I had tried to make Mission: Impossible, I wouldn't have come up with a film as intense as Brian De Palma. I mean this very film, for example. There are other people who do that better.
Fair enough. In any case, you're looking forward to this?
Yes! I'm going to have a good time. And I love Pittsburgh. My first time ever in America was Pittsburgh; I chose Pittsburgh. I left my scholarship that I had after four or five days, and then I was literally homeless. I was picked up by an absolutely wonderful family and became part of a household of six children between 17 and 27. I was adopted -- I was literally adopted from walking in the street a the outskirts. So I have seen the best of America. I've seen it right away.
Drop back by Movieline next week for more with Werner Herzog about Into the Abyss.
Follow S.T. VanAirsdale on Twitter.
Follow Movieline on Twitter.
[Photo: Getty Images]