Twee Alert: Watch Six Adorbs Clips from Wes Anderson's Moonrise Kingdom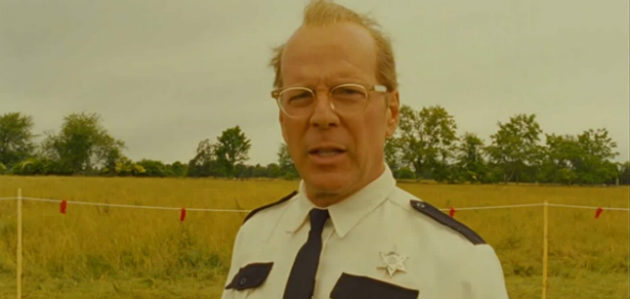 You already know you're in for a twee-fest packed with richly colorful characters and a healthy dose of quirky charm in Wes Anderson's period kid romance Moonrise Kingdom, so watching these six newly unveiled clips from the film probably won't spoil all that much. Instead, they give us more of what we're already expecting: Game turns by Anderson regulars like Bill Murray and Jason Schwartzman as well as Bruce Willis, Frances McDormand, and Ed Norton, the hazy muted palette of the isolated New England countryside as if filtered through Instagram, and our two preternatural adolescent heroes, plotting their summer camp flight through the wilderness in the name of love.

Obviously, avoid the below clips if you'd like to go in completely spoiler-free. While I'm guessing the scenes in question occur in the below order in the film, who knows? The charm of Moonrise Kingdom promises to be in the performances (get a fun glimpse of Tilda Swinton's ball-busting turn as Social Services, for instance), though I will add this spoiler: Moonrise Kingdom's dolly shot budget appears to have been quite high.
"New Penzance"

"The Most Important Decision in Your Lives"

"Were You Followed?"

"Loaded Question"

"I'm Deputizing the Little Guy"

"Juvenile Refugee"

Official synopsis:
Set on an island off the coast of New England in the summer of 1965, MOONRISE KINGDOM tells the story of two twelve-year-olds who fall in love, make a secret pact, and run away together into the wilderness. As various authorities try to hunt them down, a violent storm is brewing off-shore -- and the peaceful island community is turned upside down in more ways than anyone can handle. Bruce Willis plays the local sheriff. Edward Norton is a Khaki Scout troop leader. Bill Murray and Frances McDormand portray the young girl's parents. The cast also includes Tilda Swinton, Jason Schwartzman, and Jared Gilman and Kara Hayward as the boy and girl.
Moonrise Kingdom debuts at Cannes and opens in limited release May 25.