Rachel McAdams, Noomi Rapace Do the De Palma in First Look at Passion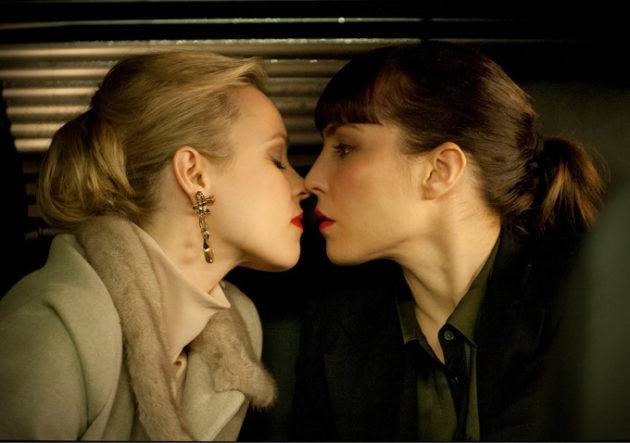 Finally! Brian De Palma is getting out of the repugnant war-screed business pioneered in Redacted and back into the sexy-time homage-remake business with which he made his name. This time it's Passion, a thriller based on the late Alain Corneau's acclaimed 2010 French potboiler Love Crime and featuring Rachel McAdams and Noomi Rapace taking over for Kristen Scott Thomas and Ludivine Sagnier, respectively. In the first photo released from the film, the actresses do what comes naturally... to, uh, De Palma.

Is that necessarily a bad thing? The Cannes market will be the first to know, with Passion headed to the Croisette as one of the myriad films on the block — yet most likely the only one with the synopsis passage, "Christine loves surprises. Naked she goes to meet the mystery lover waiting in her bedroom..." File under LOLrotic. Or not? Maybe it's a worthy successor to Corneau. Anyway, here's the full breakdown via The Playlist:
An erotic thriller in the tradition of Dressed To Kill and Basic Instinct, Brian de Palma's PASSION tells the story of a deadly power struggle between two women in the dog-eat-dog world of international business. Christine possesses the natural elegance and casual ease associated with one who has a healthy relationship with money and power. Innocent, lovely and easily exploited, her admiring protégé Isabelle is full of cutting-edge ideas that Christine has no qualms about stealing. They're on the same team, after all... Christine takes pleasure in exercising control over the younger woman, leading her one step at a time ever deeper into a game of seduction and manipulation, dominance and humiliation. But when Isabelle falls into bed with one of Christine's lovers, war breaks out. On the night of the murder, Isabelle is at the ballet, while Christine receives an invitation to seduction. From whom? Christine loves surprises. Naked she goes to meet the mystery lover waiting in her bedroom...