Oscar Index: And the Winners Are...*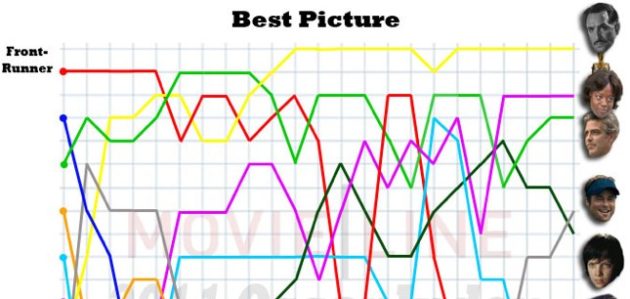 *: As determined by Movieline's Institute For the Advanced Study of Kudos Forensics after crunching 23 weeks of data from the awards cognoscenti and beyond. Thank you for reading; our work here is done.


The Final 9:
1. The Artist
2. The Help
3. The Descendants
4. Moneyball
5. Hugo
6. The Tree of Life
7. Midnight in Paris
8. The Daldry
9. War Horse
What's to say? The die was cast long ago, and unless all those old-ass, inactive white dudes who apparently make the Academy magic happen suddenly decide they want to recognize The Help (or come around on Moneyball a la some latecoming pundits or at least one old-ass, distaff counterpart), then you might as well just plan to go out on Sunday night to take advantage of the quiet restaurants and/or grocery stores. (And maybe follow our livetweeting here if/when the urge strikes.)


The Final 5:
1. Michel Hazanavicius, The Artist
2. Alexander Payne, The Descendants
3. Martin Scorsese, Hugo
4. Terrence Malick, The Tree of Life
5. Woody Allen, Midnight in Paris
Did we ever settle on how many of these guys are actually going to show up to lose to Hazanavicius in person?


The Final 5:
1. Viola Davis, The Help
1. Meryl Streep, The Iron Lady
3. Michelle Williams, My Week With Marilyn
4. Rooney Mara, The Girl With the Dragon Tattoo
5. Glenn Close, Albert Nobbs
Sasha Stone wrote a few days ago about the "general consensus" solidifying around some shakier frontrunners; Davis seems the most locked-in of that class. Anything could still happen this weekend, which is fine by me as long as it happens fast and we can get on with our lives.


The Final 5:
1. Jean Dujardin, The Artist
2. George Clooney, The Descendants
3. Brad Pitt, Moneyball
4. Demián Bichir, A Better Life
5. Gary Oldman, Tinker, Tailor, Soldier, Spy
As alluded to above, if 99-year-old Academy member Connie Sawyer says Pitt rocked it in Moneyball, then dammit, Pitt rocked it in Moneyball. All the tougher to lose to Dujardin, but hey. Stranger things have happened. To wit: Clooney's 1986 Tiger Beat profile! That had to be worth at least a few dozen votes on Tuesday as polls closed.


The Final 5:
1. Octavia Spencer, The Help
2. Bérénice Bejo, The Artist
3. Jessica Chastain, The Help
4. Melissa McCarthy, Bridesmaids
5. Janet McTeer, Albert Nobbs
Thanks for playing, all. That five months just flew by, didn't it?


The Final 5:
1. Christopher Plummer, Beginners
2. Max von Sydow, The Daldry
3. Jonah Hill, Moneyball
4. Kenneth Branagh, My Week With Marilyn
5. Nick Nolte, Warrior
On second thought, don't answer that.
Follow S.T. VanAirsdale on Twitter.
Follow Movieline on Twitter.