Do You Hear The Academy Singing? The Daunting Oscar Odds Of 'Les Miserables'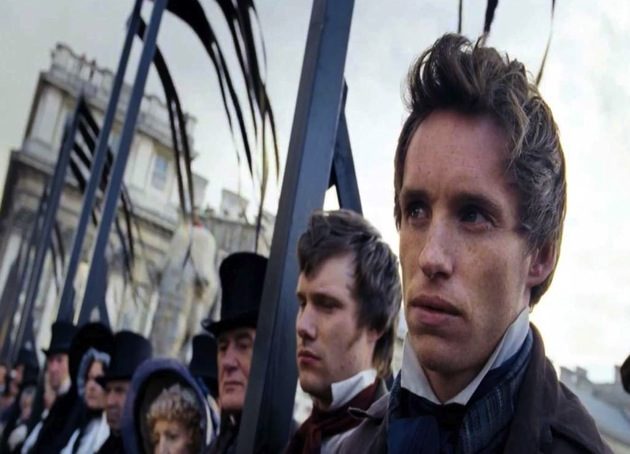 The Academy Award nominations brought good news and bad news to one of my favorite movies of the year.  Les Misérables eight nominations including Best Picture, Actor, for Hugh Jackman, and Supporting  Actress, for Anne Hathaway. That ain't chopped liver, but the highly  publicized snubbing of its director Tom Hooper along with its absence in all-important bellwether categories like screenplay and editing means what was once considered a front runner is now a real long shot to actually win Oscar's top prize. You have to go all the way back to 1931's Grand Hotel  to find a Best Picture winner that didn't have at least one of those three nominations. In the face of those daunting stats,  Les Misérables would be a shocking Best Picture winner, but if any movie deserves the upset , it's this one. A certified box office hit domestically, it just opened to huge numbers over the weekend in England and looks to be a continuing international smash.
"Do You Hear The People Sing?  is not only the stirring anthem from Hooper's adaptation, it's an apt metaphor for the impact of  a revolutionary film about revolutionary spirit. Hooper took great risks in the telling of Les Misérables — and he succeeds. Twenty-seven years in development, the film looked like it might never be made when The King's Speech director came up with the novel idea of shooting the cast's musical performances live instead of taking the usual movie-musical tack of pre-recording the songs and dubbing them in later. Without that artificial technique hampering the actors, Hooper and the creative team from the original musical — Alain Boublil, Claude-Michel Schoenberg and Herbert Kretzmer — along with the adaptation's screenwriter, William Nicholson, found a way to meld the dramatic impact of Victor Hugo's classic, gritty novel with the theatricality of the beloved stage production for a movie musical experience that hasn't been seen on the big screen in years.
Emotion is at the core of this remarkably entertaining and powerful film. Jackman , with his considerable musical chops, was the obvious choice to play petty-criminal-made-good Jean Valjean, and he delivers even in the difficult two-and-a-half-octave range the role requires.  Although Russell Crowe can't  match his co-star in the singing department, he still scores as a potent Javert.  Hathaway breaks hearts as the doomed Fantine, as does Samantha Barks in the role of Eponine.  And though Amanda Seyfried's portrayal of Cosette is not so dramatically challenging, she still manages to shine in the role.
That said, it's Eddie Redmayne, as Marius, who  threatens to steal the whole show with an impassioned performance that heralds the arrival of a major new movie star.
Hooper's aesthetic choice to shoot the emotional moments in unrelenting close up is a good one, and this is a musical  that even those who hate musicals should find satisfying in its dramatic pull and remarkable ability to move us.
Oscar, are you listening?
RELATED: 
Follow Pete Hammond on Twitter.
Follow Movieline on Twitter.