Amy Nicholson's / Top 10 of 2012 / Written In Haiku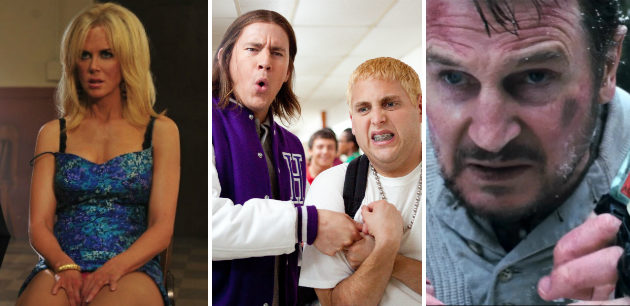 2012 was a ho-hum year for "serious" cinema. As proof, the Oscar race has narrowed to films like the chipper Argo and dreary Zero Dark Thirty — a chase so routine that the alternative is a Steven Spielberg period piece as wholesome and agreeable as enriched bread. But it was also a banner year for the films that we'll still want to watch in 2022: Ambitious over-reachers (Cloud Atlas, The Master, Les Miserables), loony passion projects (Killer Joe, Magic Mike, The Paperboy), and perfect popcorn flicks (Step Up 4, The Expendables 2, Premium Rush).
That last category is frequently left off top ten lists, but it deserves our applause. When studios get tired of risking $250 million on a single blockbuster (and audiences get tired of paying $14 just to keep up with water cooler conversation), mid-priced modest hits like Looper will be our collective salvation — and help build the next generation of filmmakers and stars. The films that made my Top Ten did so because they were bold, memorable and flawless (or at least two of the three). But of course, if critics can judge art, we should take our own creative risks. And so I've written my remarks in haiku.

1) DJANGO UNCHAINED
Quentin's bold bloodbath
An unflinching masterpiece
Sam Jackson kills it
2) LOOPER
Two actors, one nose
In a cornfield dodging fate
But can it be done?
3) ANNA KARENINA
Old, cold tragedy
Blazes with heat and magic
Goes ignored, alas
4) 21 JUMP STREET
Is our kids learning?
Channing Tatum's agent is
Let Sir Abs crack jokes
5) COMPLIANCE
At minimum wage,
A maximum need to please
Few brave souls say no
6) PITCH PERFECT
Queen Rebel Wilson
Bow down before her glory
Or sing if you must
7) HOLY MOTORS
A quick change artist
Speeds through ten lives not his own
Who is he? Who cares
8) THE GREY
Liam punched a wolf
But what mattered was the gloom
Snow and fate and death
9) SEVEN PSYCHOPATHS
More like ten psychos
Softened by dogs and bunnies
But still murderous
10) THE PAPERBOY
Sweaty, sexy Efron
Plus a pervy director
Give Kidman a prize
Disagree with my picks? Say so in verse.
Amy Nicholson is a critic, playwright and editor. Her interests include hot dogs, standard poodles, Bruce Willis, and comedies about the utter futility of existence. Follow her on Twitter.
Follow Movieline on Twitter.