Zac Efron In The Lucky One: An Appreciation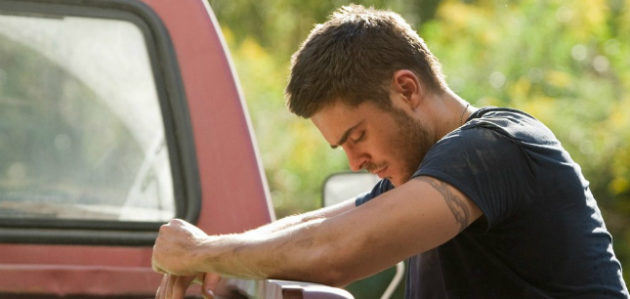 Only 20 percent of reviewers on Rotten Tomatoes, roughly one out of five, recommend April's military-themed romance The Lucky One, about an ex-Marine who walks across the country to find the girl whose photograph he believes saved his life overseas. But having already seen it on opening weekend months ago I've been waiting for today, the day it hits DVD and Blu-ray, for one very special reason: Zac Efron.

Not just Zac Efron. Zac Efron, Dreamboat. Or rather: Efron as a Nicholas Sparks Hero (NSH), just about the highest pedestal a leading man could climb atop to reach the height of female (and male) adoration.
As an NSH, the 24 year-old Efron graduates into a vaunted class of romantic screen idols — no longer just pretty Tiger Beat faces, but grown men. With muscles. And groomed-just-so man stubble.
The Lucky One and its Sparksiness fits Efron like a glove. [See previously: How Sparksian Is The Lucky One?] Is it schmaltzy? Well, yes. It is a Nicholas Sparks story, and those come built to factory specifications. As Logan — his name is Logan, for goodness sake — Efron eases into the transition between bopping around in High School Musical and getting peed on by Nicole Kidman with a strong, silent character, getting a lot of mileage out of tortured gazes and a deeply-felt sensitive-handyman broodiness. And later: Butt-grabbing, shower-soaked love scenes!
That's not to say The Lucky One is the best of Efron's post-HSM output — far from it. But where 17 Again translated Efron's teen idol status into the mainstream, Me and Orson Welles established indie cred and a desire to be taken more seriously, and Charlie St. Cloud allowed him to brood (albeit in a movie where he has weird cemetery sex with a ghost), it wasn't until The Lucky One that Efron truly powered a film as a man who, to borrow from a memorable episode of Lena Dunham's GIRLS, knows how to do things.
For starters, he fixes stuff. He loves his dog. He's tortured by memories of the brutality of war. He is a man begging to be loved, which is indeed a ridiculously easy cliche but totally works on this level of romantic fantasy. (Logan is also, thanks to Efron's subtle performance, naturally charming.) So potent is Efron's appeal, despite the limitations of script and character, that he is, I dare say, prettier to behold than his completely gorgeous co-star, Taylor Schilling. Is it any wonder she keeps washing that dish?
Much of this owes to that maven of melodrama and huckster of hormonal hoo-doo, Nicholas Sparks, not to mention director Scott Hicks, who gives fans what they want — torrid kisses, elemental emotions, and a couple of bedroom thrusts, although the big love scene is over-edited beyond my personal liking into an abstract jumble of limbs and bedsheets. Still, Hicks knows his audience: Slip a butt-caress into Efron's boxer briefs and people will surely take note.
The most tragic moment of my Lucky One viewing wasn't when Efron's Logan lost his fellow troops in a fatal ambush, or a certain character met their untimely requisite Sparks end. It happened as, at an afternoon screening in a mostly empty theater, I had to leave my seat to shush two chatty ladies five rows down from me. Shushing commenced in the span of a few seconds, but I was too late; I looked up at the screen to find that I'd missed the Big Kiss. Schilling's reluctant Beth had finally thrown caution to the wind, showed up at Logan's house, and made a beeline for his lips as his custom-built outdoor shower rained down on them. Sigh.
I silently cursed the talking ladies for making me miss it, walked back to my seat, and started counting down the days until I could rewatch the moment to my heart's content, at home (and in high definition!) on DVD. Call it delayed gratification. It's somehow all the more fitting that I've been living with the anticipation, and I'm sure NSH-Efron will have been totally worth the wait.
The Lucky One is on Blu-ray and DVD today.
Follow Jen Yamato on Twitter.
Follow Movieline on Twitter.