Nicole Kidman, Zac Efron and Lee Daniels's Polarizing Paperboy Storms Cannes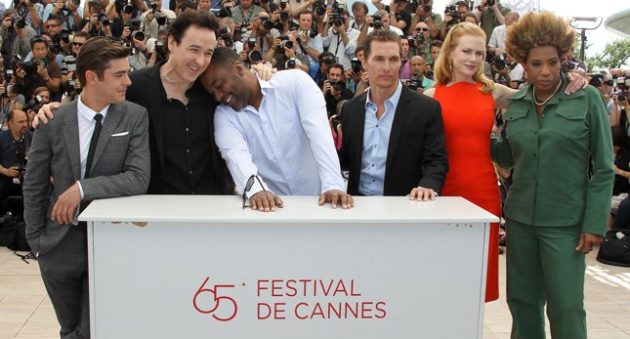 This is Thursday in Cannes: Zac Efron in tighty-whities, Nicole Kidman as a luscious sex kitten, Matthew McConaughey as a journalist with a sexual secret and a very creepy John Cusack. Such was just the tip of the iceberg this morning in Lee Daniels's outrageous The Paperboy, which will have its world premiere tonight as the festival hits its final swing. Opinions seemed to range wildly in all directions following the film's early morning screening: Applause and cries of "Bravo!" mixed with boos, laughter and a swift rush out of the huge Lumière Theatre to get reaction from Daniels and the cast at the press conference. The conversation in the press room took cues from the film's flamboyant flare, and then it went from there.

What many girls (and some boys) may have secretly wished to see back in the High School Musical days they can now get a big dose of it here: Efron is tan, trim and spends a good chunk of his scenes in his underwear, at one point dancing in the rain in his briefs with a very platinum and seductive Nicole Kidman. Never one to mince words, Lee Daniels set the record straight when asked about Zac Efron being "eroticized" in the new film: "He's good looking, the camera can't help but love him... And I'm a gay man - you know!"
"I don't think I was supposed to feel comfortable," said Efron, laughing after Daniels's quip. "This character is learning the ways of the world and it is uncomfortable. It was a great character to play."
Based on a novel by Pete Dexter, The Paperboy is set in late '60s Florida. Efron plays Jack, a young guy who's aimless and living with his dad and soon-to-be step mother. His older brother (McConaughey) is a journalist who comes to town to investigate a death-row inmate (John Cusack) he believes is wrongly convicted of murder. Meanwhile, Cusack is corresponding with a platinum blonde (Nicole Kidman) with a fabulous wardrobe, fake eye-lashes and pillowy lips. She's also the object of Jack's raging hormones — and things get complicated.
"I felt like I was let out of some cage," Cusack said Thursday morning in Cannes about his role. "Lee [Daniels] and I talked at the Chateau Marmont about a film I made called The Grifters and then he looked at me and said, 'I think you have more to give than you've been giving lately,' and that is just music to an actor's ears."
In 2010's Rabbit Hole, Nicole Kidman earned an Oscar nomination as an upper middle-class mother in mourning following the untimely death of her young son. Her Paperboy character Charlotte Bless could not present more of a contrast: Simulating sex in a prison visitation room, wearing flashy outfits and playing an untamed seductress, she at one point comes to Jack's rescue after he's attacked by a swarm of jellyfish. While he lays barely conscious on the sand as welts appear on his six-pack, she gives him the remedy required to treat a jellyfish sting.
"I had to step into the character and put myself in a place where I didn't step out of it," Kidman said. She explained that she met Daniels at a party while she was promoting Rabbit Hole and became curious about how she might fit one day into one of his films. "I haven't seen the movie yet and I'm nervous about seeing it, but that's my job - to give over myself to someone and have them bring out in me what I can give."
"I had the most lovely time in the world playing with Nicole," Efron followed. "I've been in love with her since Moulin Rouge. It was the best opportunity in the world."
The Paperboy is loaded with laughs especially for audiences who appreciate a bit of camp, but the film also takes a darker, more serious turn and Thursday's post-screening followed the movie's lead. Daniels, who received a Best Director Oscar nomination in 2011 for Precious, said that all the characters in The Paperboy are real for him personally, from the young kid to the woman who writes letters to prisoners to the house servant (played by Macy Gray). He also said he knows the prisoner.
"I live in the truth. Every character here I know," he said. "My brother — I raised his children. He has been in jail for murder. So I know this cat and when [Cusack] did anything that's not true, I said, 'You have to come at me in a different way.'" Continuing, Daniels said: "I say this to all filmmakers: You never take no for an answer. Making sure my vision is executed means never taking no, never."
"Lee has a hyper-sensitive mind, and as soon as you nail it he says, 'Now, where can we take it?'" McConaughey said. Daniels offered up that McConaughey will be in his next film, The Butler, as John F. Kennedy. Cusack will play Richard Nixon. Starring Forest Whitaker as the White House butler who served multiple U.S. presidents, the cast also includes Kidman and Oprah Winfrey. Lee said that the new film will be decidedly more PG-13 than The Paperboy.
Read more of Movieline's Cannes 2012 coverage here.
[Top image of (L-R) Zac Efron, John Cusack, Lee Daniels, Matthew McConaughey, Nicole Kidman and Macy Gray: AFP/Getty Images]