Hey Academy! Time To Take Nicole Kidman's 'Paperboy' Role Seriously!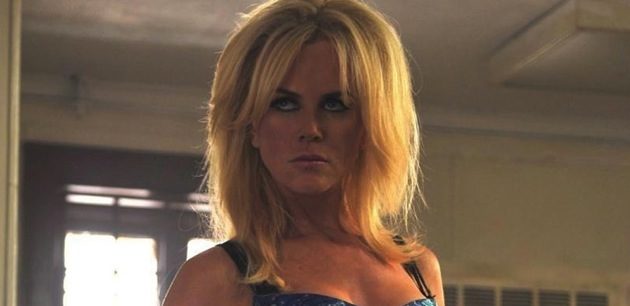 Once, Nicole Kidman barely had to raise an eyebrow to get awards attention. Now, she barely can raise an eyebrow and her best work in years is being completely ignored in the Oscar conversation. The Paperboy stars Kidman as Charlotte Bless, a damaged attention-seeker who becomes sexually obsessed with a convicted murderer (John Cusack), while cock-teasing the only man—or really, teenager—who truly loves her (Zac Efron). It's Kidman's bravest, boldest, and most committed performance ever, and no one cares for the short-sighted reason that the movie is terrible.
How unfair. The Nicole Kidman of To Die For used to have a bright future before that bright future came true and blinded everyone to her comedic gifts. Once Kidman scored her first Oscar nomination for 2002's Moulin Rouge, she became the prey of the Hollywood awards hunt, in which the chase for For-Your-Consideration goes like this: take one prestigious actress (see Kidman, Berry, Jolie, Swank), make her play someone vulnerable (see Cold Mountain, Things We Lost in the Fire, The Changeling, Conviction), then cross your fingers. This is why we've had a full decade of Kidman drifting about in period costumes or, god forbid, stretching herself to play a movie star in Nine. And people, this is why the Oscar season is boring. This formula guarantees a chase to the middlebrow, and it's why every Best Picture Oscar winner since Silence of the Lambs is something your grandma would see at an arthouse matinee.
There's only one thing we can do to save the Academy Awards: nominate Nicole Kidman for The Paperboy.
Just because The Paperboy is bad doesn't void the bravery it took to make it. Kidman's Charlotte is a balls-out wonder. She's pure sex and need, at once over-confident and fragile. Slithering around in her neon polyester pants, Kidman is fully alive for the first time since Baz Luhrmann murdered her with tuberculosis. And The Paperboy even has not one but two stand-out scenes that will live on in infamy—Sally Field standing on a table in Norma Rae can't compete with Kidman peeing on Zac Efron or giving John Cusack an orgasm just by breathing at him from across a prison cell.
Imagine if Oscar voters were able to parse the jewels from the schlock. Why should Les Misérables clutter up every acting category? What if this year's ceremony didn't just include the dull favorites like Daniel Day-Lewis in Lincoln and Jessica Chastain in Zero Dark Thirty—roles everyone respects, but no one loves—but made room for Michael Shannon in Premium Rush and Michael Sheen in Breaking Dawn – Part 2. Imagine just being able to say, "The Academy Award-nominated bike messenger thriller Premium Rush."
Plus, this wouldn't be the first time we've given an actor a statuette for good work in an awful film. We did it three years ago when Mo'Nique won for Precious. It's no coincidence that Precious and The Paperboy were both directed by bizarro auteur Lee Daniels, a former casting agent and producer with the clout to get serious actors to take him seriously. He convinced the likes of Helen Mirren, Cuba Gooding Jr., and Joseph Gordon-Levitt to star in his debut film, Shadowboxer—-and that's despite a script which opens with Stephen Dorff shoving a pool cue up a guy's ass.
In fact, let's go one step further. Not only does Nicole Kidman deserve a Best Actress nomination for The Paperboy, Lee Daniels deserves Best Director. He's clearly one of the greats. Not because his films are any good, but because his actors would do—and do do—anything for him. Anthony Minghella, Sidney Pollack, Rob Marshall only wish they could pull as passionate of a performance out of Kidman, and Daniels behind-the-scenes alchemy is that powerful with every single one of his actors. He not only convinced Helen Mirren and Cuba Gooding Jr. to shoot a strip scene in Shadowboxer, he convinced them to commit to it like it was high art. And The Paperboy performs more stunt-casting miracles: An American sweetheart, John Cusack, is loathsome; Macy Gray is the next great actress and Zac Efron, convincingly, can't get laid. Could Steven Spielberg swing that? Never.
Luckily, we're not alone in appreciating this wonderful, terrible gem. In October, a group of rogue cinephiles launched a For Your Consideration Facebook page flogging Nicole Kidman's outstanding work in The Paperboy. As of today, the page has 10 fans. Let's get that number growing.