REVIEW: Lizzy Caplan's Hipster Commitment-Phobe Carries Relationship Drama 'Save The Date'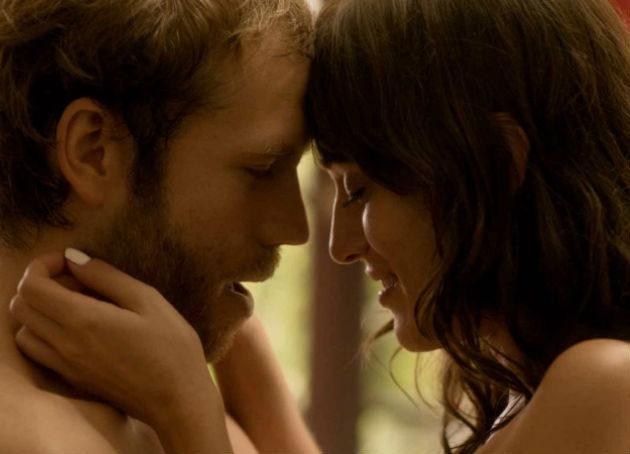 Save the Date, the new film from director Michael Mohan (One Too Many Mornings), is a neat, lightweight little hipster romance about commitment issues between people barely ready to confront what they want, much less tell others about it. (I hate to use the h-word, but there's really no avoiding it when talking about a film in which an artist/bookstore employee breaks up with a guy in a band and starts dating a marine biologist who's been mooning over her at work.) Written by Mohan alongside Jeffrey Brown and Egan Reich, the film follows two sisters and the men they're involved with. Sarah (Lizzy Caplan) and Beth (Alison Brie) are dating a pair of guys in an indie group called Wolfbird. The most sensible Beth and drummer Andrew (Martin Starr) are getting married, while responsibility-averse Sarah and lead singer Kevin (Geoffrey Arend) have just moved in together.
It's a tidy arrangement that's blown to bits when, in a fit of euphoria during a successful hometown show, Kevin decides to propose to Sarah in front of the crowd despite Andrew's warning that the timing's not right. She's horrified, doesn't accept, and soon Wolfbird's off on tour with a broken-hearted frontman while she moves into a new place and tumbles too quickly into a relationship with the sweet Jonathan (Mark Webber), who's been ordering books for his master's degree at Sarah's store just because she works there. Beth expects this to be a rebound relationship that will catapult her flaky sister back into Kevin's arms, but as time goes on it starts to seem like that has everything to do with what she wants and not what Sarah does.
Save the Date, which belongs to a recent rash of films, from (500) Days of Summer to The Freebie and Celeste & Jesse Forever, that have showcased Los Angeles as an actual warm, distinctive city, manages its modest pleasures because of its likable cast. Arend, who may be best known as the spouse of Mad Men's Christina Hendricks, makes a convincingly charismatic/smothering musician, and Freaks and Geeks alum Martin Starr is a pleasure to see in anything, particularly a role in which he's a disheveled rocker. And actor and filmmaker Webber brings vulnerability to a character who's initially a little too good to be true, until he finally calls Sarah on her skittishness.
All three are playing painfully nice guys ("I want to make sure I'm not stepping over any boundaries!" Jonathan protests as Sarah drags him to bed) who are at the mercy of the women in their lives — Beth is deep into planning a wedding Andrew has little interest in, and Sarah threatens to smash both Kevin and Jonathan's hearts in her quest for happiness. Brie's a talented comedienne, but she plays things straight here, bringing nuance to a potentially shrill character so caught up in her own nuptials that she starts to see her sister's issues as interference. And Caplan carries the bulk of the film, her Sarah a girl for whom some things, like guys and her comic-style artwork, come easy, while longer-range decisions and plans remain intimidating and to be avoided. "It makes me think that aspirations are just totally overrated," she tells Jonathan on a date as she describes her friends' career and complaints about their busy lives, but her arty slackerdom reveals itself to be a kind of cowardice.
In Gone Girl, former Entertainment Weekly writer turned novelist Gillian Flynn's hit thriller, the character Amy describes an archetype she calls the "Cool Girl," an aspirational creature who's just one of the guys, "who adores football, poker, dirty jokes, and burping, who plays video games, drinks cheap beer, loves threesomes and anal sex," but who is, of course, also "hot and understanding." It's a type that Caplan's become a queen at playing (I'd put Olivia Munn in second place), beautiful and hip and slovenly and all over the place, an attractive mess — see Bachelorette, 3, 2, 1... Frankie Go Boom, Party Down and Hot Tub Time Machine. In the history of female roles on screen, there have been far worse types to play, despite Amy's condemnation, but Caplan, who's always a winning presence, is most interesting when she provides peeks behind the Cool Girl mask — as in how her character in Bachelorette was on the verge of being repulsive, her carousel of partying and hookups starting to wear on her, to look less like fun she's having and more like self-destruction.
Sarah's most intriguing when she's an accidental monster, part of her power a certain inherent narcissism that allows her to act on impulse but also to be blithely unrecognizing of the reactions of others when she's caught up in her own feelings. She and Jonathan have a cute and sometimes cutesy courtship (one Mohan likes to mark with periodic shots of their feet), but it's when he stands up to her and demands to know what it is about intimacy she's so afraid of, and when Andrew has his own showdown with Beth, that the film really coheres. That's when it delineates how the very qualities that can be appealing in someone can also be problematic. Mohan's film may not manage anything out of the ordinary, but it does present a convincingly contemporary depiction of relationships and dating when the goalposts have been moved, or when we're at least trying to pretend they have.
Follow Alison Willmore on Twitter.
Follow Movieline on Twitter.