Golden Globes Unveil 70th Edition Nominees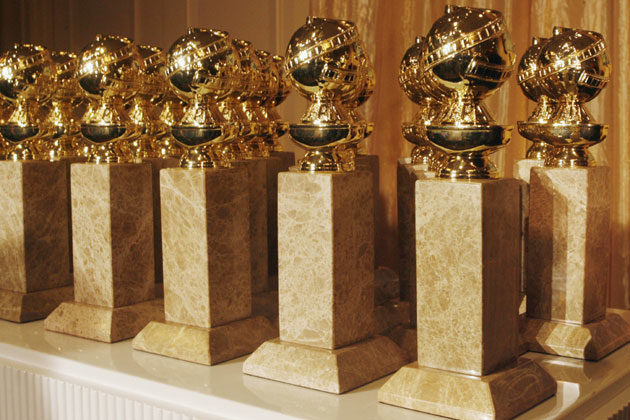 Lincoln lead the 70th Golden Globe nominations in the Motion Picture category Thursday morning, taking seven categories, including Best Motion Picture Drama, Best Director for Steven Spielberg and Best Actor, Drama for Daniel Day-Lewis. Argo and Django Unchained both scored five noms, also placing in the Best Motion Picture Drama category and Best Director for Ben Affleck and Quentin Tarantino respectively.

Related:
Globes Analysis: Hooper, Russell, De Niro Snubbed & Is Waltz Really A Supporting Actor?
Screen Actors Guild Unveils 19th Annual Award Nominees and 'Lincoln' And 'Les Misérables' Lead Critics Choice Award Nominees
Other top Awards contenders Zero Dark Thirty, Les Misérables and Silver Linings Playbook scooped up four nominations each, with Les Misérables and Silver Linings Playbook taking noms for Best Motion Picture, Musical or Comedy. Moonrise Kingdom, Best Exotic Marigold Hotel, and Salmon Fishing in the Yemen rounded out the category.
MOTION PICTURE CATEGORIES
Motion Picture, Drama
Argo, Warner Bros. Pictures, GK Films, Smokehouse Pictures; Warner Bros. Pictures
Django Unchained, The Weinstein Company, Columbia Pictures; The Weinstein Company/Sony Pictures Releasing
Life of Pi, Fox 2000 Pictures; Twentieth Century Fox
Lincoln, DreamWorks Pictures, Twentieth Century Fox; Touchstone Pictures
Zero Dark Thirty, Columbia Pictures and Annapurna Pictures; Sony Pictures Releasing
[Related: 'Zero Dark Thirty' Takes Top National Board Of Review Honors]
Motion Picture, Musical or Comedy
Best Exotic Marigold Hotel, Blueprint Pictures/Participant Media; Fox Searchlight Pictures
Les Miserables, Universal Pictures, A Working Title Films/Cameron Mackintosh Productions; Universal Pictures
Moonrise Kingdom, Indian Paintbrush; Focus Features
Salmon Fishing in the Yemen, CBS Films
Silver Linings Playbook, The Weinstein Company
Director
Ben Affleck, Argo
Kathryn Bigelow, Zero Dark Thirty
Ang Lee, Life of Pi
Steven Spielberg, Lincoln
Quentin Tarantino, Django Unchained
Actor, Drama
Daniel Day-Lewis, Lincoln
Richard Gere, Arbitrage
John Hawkes, The Sessions
Joaquin Phoenix, The Master
Denzel Washington, Flight
[Related: LA Film Critics Name 'Amour' Best Picture, Boost 'The Master,' Jazz Up Oscar Race]
Actress, Drama
Jessica Chastain, Zero Dark Thirty
Marion Cotillard, Rust and Bone
Helen Mirren, Hitchcock
Naomi Watts, The Impossible
Rachel Weisz, The Deep Blue Sea
Actor, Comedy or Musical
Jack Black, Bernie
Bradley Cooper, Silver Linings Playbook
Hugh Jackman, Les Misérables
Ewan McGregor, Salmon Fishing in the Yemen
Bill Murray, Hyde Park on Hudson
Actress, Comedy or Musical
Emily Blunt, Salmon Fishing in the Yemen
Judi Dench, Best Exotic Marigold Hotel
Jennifer Lawrence, Silver Linings Playbook
Maggie Smith, Quartet
Meryl Streep, Hope Springs
Supporting Actor
Alan Arkin, Argo
Leonardo DiCaprio, Django Unchained
Phillip Seymour Hoffman, The Master
Tommy Lee Jones, Lincoln
Christoph Waltz, Django Unchained
Supporting Actress
Amy Adams, The Master
Sally Field, Lincoln
Anne Hathaway, Les Misérables
Helen Hunt, The Sessions
Nicole Kidman, The Paperboy
[Related: NY Film Critics Circle Spices Up Oscar Race With 'Zero Dark Thirty' Best Picture Pick]
Screenplay
Mark Boal, Zero Dark Thirty
Tony Kushner, Lincoln
David O. Russell, Silver Linings Playbook
Quentin Tarantino, Django Unchained
Chris Terrio, Argo
Foreign-Language Picture
Amour (Austria)
A Royal Affair (Denmark)
The Intouchables (France)
Kon-Tiki (Norway, U.K., Denmark)
Rust and Bone, (France)
Animated Feature Film
Brave
Frankenweenie
Hotel Transylvania
Rise of the Guardians
Wreck-It Ralph
Original Score
Mychael Danna, Life of Pi
Alexandre Desplat, Argo
Dario Marianelli, Anna Karenina
Tom Tykwer, Johnny Klimek & Reinhold Heil, Cloud Atlas
John Williams, Lincoln
Original Song
"For You," Act of Valor (Music by: Monty Powell, Keith Urban Lyrics by: Monty Powell, Keith Urban)
"Not Running Anymore," Stand Up Guys (Music by: Jon Bon Jovi Lyrics by: Jon Bon Jovi)
"Safe and Sound," The Hunger Games (Music by: Music by: Taylor Swift, John Paul White, Joy Williams, T Bone Burnett Lyrics by: Taylor Swift, John Paul White, Joy Williams, T Bone Burnett)
"Skyfall," Skyfall (Music by: Adele, Paul Epworth Lyrics by: Adele, Paul Epworth)
"Suddenly," Les Misérables (Music by: Claude-Michel Schonberg Lyrics by: Alain Boublil, Claude-Michel Schonberg)
(Television nominees follow on the next page)
Pages: 1 2