'Lincoln' And 'Les Misérables' Lead Critics Choice Award Nominees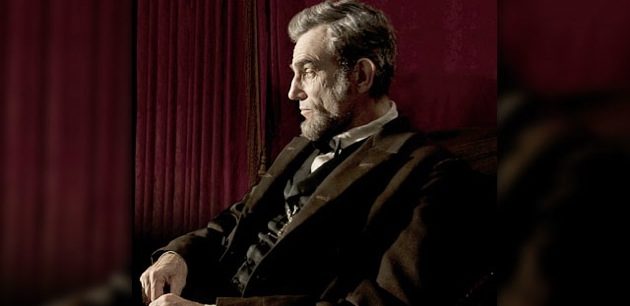 In the latest round of Awards, the Broadcast Film Critics Association gave their nominations for the 18th annual Critics' Choice Movie Awards, with Steven Spielberg's Lincoln leading the pack with 13 nominations, including Best Picture and Best Actor for Daniel Day-Lewis as well as Best Supporting Actor for Tommy Lee Jones and Best Supporting Actress for Sally Field. Les Misérables followed with 11 nominations from the organization, including Best Picture, Best Actor for Hugh Jackman and Best Supporting Actress for Anne Hathaway.

[Related: LA Film Critics Name 'Amour' Best Picture, Boost 'The Master,' Jazz Up Oscar Race]
David O. Russell's Silver Linings Playbook also proved strong with 10 nominations including Best Picture, Best Actor for Bradley Cooper, Best Actress for Jennifer Lawrence and Best Supporting Actor for Robert De Niro. And Life of Pi followed up with nine nods, while Argo, The Master and Skyfall followed with seven nominations each.
"This has been a truly spectacular year in filmmaking and our voters had an embarrassment of riches to choose from," said BFCA President Joey Berlin in a statement.  "To recognize the remarkable achievements across every genre of filmmaking we have added several new categories this year, including often overlooked performances in Comedy and Action.  And to add even more fun, we're letting fans in on the voting in one special category."
[Related: Oscar Index: 'Zero Dark' Domination & McConaughey's 'Magic' Moves]
The winners will be announced live at the Critics' Choice Movie Awards ceremony on Thursday, January 10, 2013 from the Barker Hangar in Santa Monica, Calif. The show will broadcast live on The CW Network.
The 18th Annual Critics' Choice Movie Awards Nominees:
BEST PICTURE
Argo
Beasts of the Southern Wild
Django Unchained
Les Misérables
Life of Pi
Lincoln
The Master
Moonrise Kingdom
Silver Linings Playbook
Zero Dark Thirty
 
BEST ACTOR
Bradley Cooper – "Silver Linings Playbook"
Daniel Day-Lewis – "Lincoln"
John Hawkes – "The Sessions"
Hugh Jackman – "Les Misérables"
Joaquin Phoenix – "The Master"
Denzel Washington – "Flight"
[Related: 'Zero Dark Thirty' Takes Top National Board Of Review Honors]
 
BEST ACTRESS
Jessica Chastain – "Zero Dark Thirty"
Marion Cotillard – "Rust and Bone"
Jennifer Lawrence – "Silver Linings Playbook"
Emmanuelle Riva – "Amour"
Quvenzhané Wallis – "Beasts of the Southern Wild"
Naomi Watts – "The Impossible"
 
BEST SUPPORTING ACTOR
Alan Arkin – "Argo"
Javier Bardem – "Skyfall"
Robert De Niro – "Silver Linings Playbook"
Philip Seymour Hoffman – "The Master"
Tommy Lee Jones – "Lincoln"
Matthew McConaughey – "Magic Mike"
 
BEST SUPPORTING ACTRESS
Amy Adams – "The Master"
Judi Dench – "Skyfall"
Ann Dowd – "Compliance"
Sally Field – "Lincoln"
Anne Hathaway – "Les Misérables"
Helen Hunt – "The Sessions"
[Related: NY Film Critics Circle Spices Up Oscar Race With 'Zero Dark Thirty' Best Picture Pick]
 
BEST YOUNG ACTOR/ACTRESS
Elle Fanning – "Ginger & Rosa"
Kara Hayward – "Moonrise Kingdom"
Tom Holland – "The Impossible"
Logan Lerman – "The Perks of Being a Wallflower"
Suraj Sharma – "Life of Pi"
Quvenzhané Wallis – "Beasts of the Southern Wild"
 
BEST ACTING ENSEMBLE
Argo
The Best Exotic Marigold Hotel
Les Misérables
Lincoln
Moonrise Kingdom
Silver Linings Playbook
 
BEST DIRECTOR
Ben Affleck – "Argo"
Kathryn Bigelow – "Zero Dark Thirty"
Tom Hooper – "Les Misérables"
Ang Lee – "Life of Pi"
David O. Russell – "Silver Linings Playbook"
Steven Spielberg – "Lincoln"
 
BEST ORIGINAL SCREENPLAY
Quentin Tarantino – "Django Unchained"
John Gatins – "Flight"
Rian Johnson – "Looper"
Paul Thomas Anderson – "The Master"
Wes Anderson & Roman Coppola – "Moonrise Kingdom"
Mark Boal – "Zero Dark Thirty"
 
BEST ADAPTED SCREENPLAY
Chris Terrio – "Argo"
David Magee – "Life of Pi"
Tony Kushner – "Lincoln"
Stephen Chbosky – "The Perks of Being a Wallflower"
David O. Russell – "Silver Linings Playbook"
 
BEST CINEMATOGRAPHY
"Les Misérables" – Danny Cohen
"Life of Pi" – Claudio Miranda
"Lincoln" – Janusz Kaminski
"The Master" – Mihai Malaimare Jr.
"Skyfall" – Roger Deakins
 
BEST ART DIRECTION
"Anna Karenina" – Sarah Greenwood/Production Designer; Katie Spencer/Set Decorator
"The Hobbit" – Dan Hennah/Production Designer; Ra Vincent & Simon Bright/Set Decorators
"Les Misérables" – Eve Stewart/Production Designer; Anna Lynch-Robinson/Set Decorator
"Life of Pi" – David Gropman/Production Designer; Anna Pinnock/Set Decorator
"Lincoln" – Rick Carter/Production Designer; Jim Erickson/Set Decorator
 
BEST EDITING
"Argo" – William Goldenberg
"Les Misérables" – Melanie Ann Oliver and Chris Dickens
"Life of Pi" – Tim Squyres
"Lincoln" – Michael Kahn
"Zero Dark Thirty" – William Goldenberg and Dylan Tichenor
 
BEST COSTUME DESIGN
"Anna Karenina" – Jacqueline Durran
"Cloud Atlas" – Kym Barrett and Pierre-Yves Gayraud
"The Hobbit" – Bob Buck, Ann Maskrey and Richard Taylor
"Les Misérables" – Paco Delgado
"Lincoln" – Joanna Johnston
 
BEST MAKEUP
Cloud Atlas
The Hobbit
Les Misérables
Lincoln
 
BEST VISUAL EFFECTS
The Avengers
Cloud Atlas
The Dark Knight Rises
The Hobbit
Life of Pi
 
BEST ANIMATED FEATURE
Brave
Frankenweenie
Madagascar 3
ParaNorman
Rise of the Guardians
Wreck-It Ralph
 
BEST ACTION MOVIE
The Avengers
The Dark Knight Rises
Looper
Skyfall
 
BEST ACTOR IN AN ACTION MOVIE
Christian Bale – "The Dark Knight Rises"
Daniel Craig – "Skyfall"
Robert Downey Jr. – "The Avengers"
Joseph Gordon-Levitt – "Looper"
Jake Gyllenhaal – "End of Watch"
 
BEST ACTRESS IN AN ACTION MOVIE
Emily Blunt – "Looper"
Gina Carano – "Haywire"
Judi Dench – "Skyfall"
Anne Hathaway – "The Dark Knight Rises"
Jennifer Lawrence – "The Hunger Games"
 
BEST COMEDY
Bernie
Silver Linings Playbook
Ted
This Is 40
21 Jump Street
 
BEST ACTOR IN A COMEDY
Jack Black – "Bernie"
Bradley Cooper – "Silver Linings Playbook"
Paul Rudd – "This Is 40"
Channing Tatum – "21 Jump Street"
Mark Wahlberg – "Ted"
 
BEST ACTRESS IN A COMEDY
Mila Kunis – "Ted"
Jennifer Lawrence – "Silver Linings Playbook"
Shirley MacLaine – "Bernie"
Leslie Mann – "This Is 40"
Rebel Wilson – "Pitch Perfect"
 
BEST SCI-FI/HORROR MOVIE
The Cabin in the Woods
Looper
Prometheus
 
BEST FOREIGN LANGUAGE FILM
Amour
The Intouchables
A Royal Affair
Rust and Bone
 
BEST DOCUMENTARY FEATURE
Bully
The Central Park Five
The Imposter
The Queen of Versailles
Searching for Sugar Man
West of Memphis
 
BEST SONG
"For You" – performed by Keith Urban/written by Monty Powell & Keith Urban – Act of Valor
"Learn Me Right" – performed by Birdy with Mumford & Sons/written by Mumford & Sons – Brave
"Skyfall" – performed by Adele/written by Adele Adkins & Paul Epworth – Skyfall
"Still Alive" – performed by Paul Williams/written by Paul Williams – Paul Williams Still Alive
"Suddenly" – performed by Hugh Jackman/written by Claude-Michel Schonberg & Alain Boublil & Herbert Kretzmer – Les Misérables
 
BEST SCORE
"Argo" – Alexandre Desplat
"Life of Pi" – Mychael Danna
"Lincoln" – John Williams
"The Master" – Jonny Greenwood
"Moonrise Kingdom" – Alexandre Desplat