Oscar Index: 'Zero Dark' Domination & McConaughey's 'Magic' Moves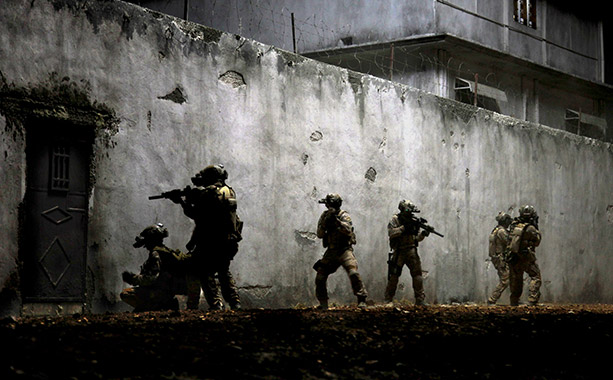 Welcome back to the Gold Linings Playbook, otherwise known as the Oscar Index, in which we take the pulse of the pundits handicapping this year's emerging Oscar class!
Oscar handicapping began in earnest this week with The New York Film Critics Circle's selection of Kathryn Bigelow's Zero Dark Thirty as Best Picture, adding further speculation that the hunt for Bin Laden drama may steal some of Ben Affleck's Argo's thunder. In the past decade, four of the NYFCC's Best Picture winners have gone on to win the Academy Award: The Lord of the Rings: The Return of the King; No Country for Old Men; The Hurt Locker, and The Artist.

But never mind Argo; Lincoln better watch its back. On Wednesday, the National Board of Review also named Zero Dark Thirty Best Picture, Bigelow Best Director, and Jessica Chastain Best Actress.
Also getting some newfound awards season cred courtesy of the NYFCC are Matthew McConaughey, named Best Supporting Actor for Magic Mike and Bernie, and Rachel Weisz, a below the radar choice for Best Actress for Deep Blue Sea, assuring that that DVD screener will be retrieved from the pile. Other NYFCC winners in the main categories are in line with pundit expectations: Bigelow for Best Director; Daniel Day-Lewis (Lincoln) for Best Actor, and Sally Field (Lincoln) for Best Supporting Actress.
Independent Spirit Awards nominations, which were announced last week, have been harbingers for Academy Award consideration, but only twice — Platoon and last year's The Artist — has the Best Feature winner gone on to win Hollywood's ultimate prize. Still, Best Feature nods have given Beasts of the Southern Wild, Moonrise Kingdom and especially Silver Linings Playbook a decided Oscar boost.
There is still time to mount Don Quixote-like quests for statuette consideration (Linda Cardinelli's self-financed Best Actress campaign on behalf of Return) or for critics to float their own long-shot candidates they deem to be at least worthy of consideration (End of Watch, suggests Roger Ebert).
But in this early going, it's more fun for seasoned Oscar-watchers — literally those watching at home — to think about which nominees would make for a more entertaining Academy Awards broadcast, which is in dire need of a reboot. Luckily, Lincoln is a shoe-in for major award consideration, so we have host Seth McFarlane's Ford Theatre jokes to look forward to. Here's hoping the Academy once again allows Best Song contenders to perform, just so we can see the bombastic production number sure to accompany Adele's "Skyfall." The prospect of multi-nominations for Argo increases the possibility that an Oscar will be accepted with an "Argo f*** yourself" flourish. And right now, there's no denying that we like the possibility of another emotional Sally Field acceptance speech that would top her "you like me" outburst 27 years ago.
Until then, how did the week's developments impact the ever emerging Oscar field?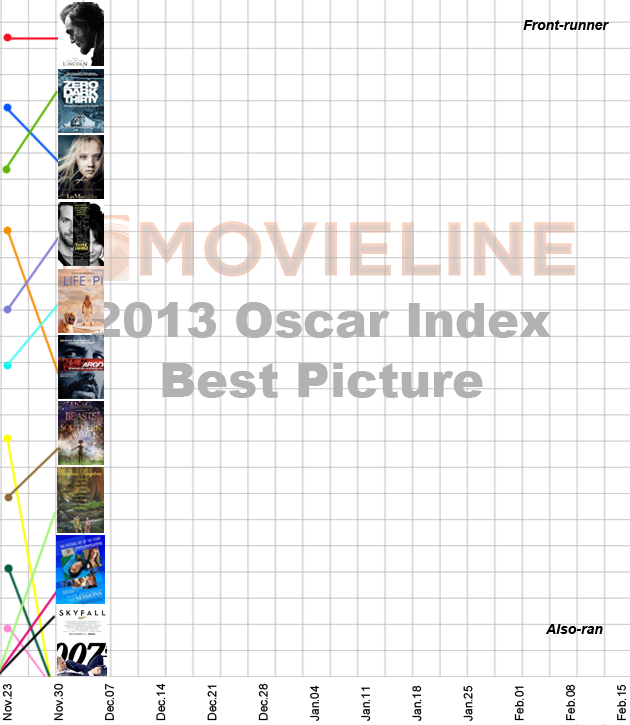 Best Picture
One can devise a potent drinking game out of every time click-savvy Huffington Post queries in a headline whether a certain film can be considered to be a "front-runner." They have so far posed the question on behalf of Argo, Lincoln, Les Miserables, and Zero Dark Thirty. Into the fray gallops Quentin Tarantino's Django Unchained, which had its hotly-anticipated Director's Guild Association screening last weekend. Judging by the mostly rapturous Twitter response from acolytes, it went pretty good. But is it Oscar-worthy? Michael Haneke's Amour swept the European film awards over the weekend, while The Master was annointed top film of 2012 by Sight & Sound. Just sayin'.
But Zero Dark Thirty is making a direct assault on Hollywood's top prize with its NYFCC and NBR wins this week for Best Picture and Best Director. Meanwhile, the bulk of this year's buzziest Best Picture wannabes were fall and winter releases, which does not bode well for Moonrise Kingdom (a May release) and Beasts of the Southern Wild (June), but their DVD releases could help refresh memories.
1. Zero Dark Thirty
2. Lincoln
3. Les Miserables
4. Silver Linings Playbook
5. Life of Pi
6. Argo
7. Beasts of the Southern Wild
8. Moonrise Kingdom
9. The Sessions
10. Skyfall
Ones to watch: Django Unchained, The Hobbit: An Unexpected Journey, The Impossible, The Master
"Standing ovation for Tarantino at DGA," tweeted Anne Thompson from the first screening of Django Unchained. But it's a strong field of contenders, in which four slots are by most accounts assured for Affleck, Bigelow, Hooper, and Spielberg. Bigelow's NYFCC and NBR wins this week put her seriously in the hunt. That leaves one slot open for once-certain nominee Paul Thomas Anderson (The Master), or Wes Anderson (Moonrise Kingdom), Ang Lee (Life of Pi), and Behn Zeitlin (Beasts of the Southern Wild).

1. Kathryn Bigelow (Zero Dark Thirty)
2. Steven Spielberg (Lincoln)
3. Tom Hooper (Les Miserables)
4. Ben Affleck (Argo)
5. David O. Russell (Silver Linings Playbook)
Ones to watch: Paul Thomas Anderson (The Master), Michael Haneke (Amour), Peter Jackson (The Hobbit: An Unexpected Journey), Quentin Tarantno (Django Unchained)
Next: Best Actor & Best Actress