Early Reaction: 'Skyfall' Raises The Bar On Bond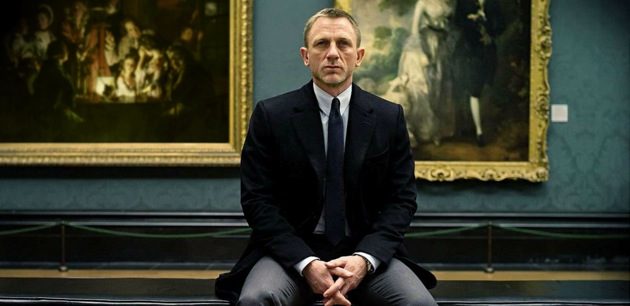 Director Sam Mendes and screenwriters Neal Purvis, Robert Wade and John Logan have done a very wily thing for James Bond's 50th anniversary: They've given 007 a midlife crisis. The trauma takes root during the white-knuckle opening of Skyfall, the best film so far of Daniel Craig's run as Ian Fleming's suave super spy and one of the best of the Bond franchise.
After chasing his quarry by motorcycle over the rooftops of Istanbul's Grand Bazaar and piloting an earth mover over a speeding train to keep his target from escaping, a wounded Bond loses the battle, and, it appears, his life. But since the movie has only just started, there's not much doubt that he will back after the eerie-but-dreamy titles sequence set to Adele's lush theme song. '
When he appears on screen again, Bond's in paradise and presumed dead in the U.K. His wounds have healed, except for the big psychic gash that has him drinking shots while balancing a riled scorpion on his wrist for sport. Alas, even paradise has CNN and, soon, Bond is learning from Wolf Blitzer that MI6's headquarters have been bombed and it's time for him to return to the service of his country.
Except it's not as easy as that. After Mike Myers strip-mined the Bond franchise for his Austin Powers parodies, the Bond writers take a cue from The Spy Who Shagged Me and explore the idea: what would happen if James Bond lost his mojo?  Although Craig's chiseled body does not exactly cooperate with the plotline, he does the best acting of his career playing a supremely confident man grappling with the onset of doubt: doubt in himself, doubt in his work and, likewise, the doubts of his superiors, who with the exception of M  (played once again with stately grit by Judi Dench), seem to be of the mind that 007 has passed his sell by date. As Ralph Fiennes, who plays M's new boss, Gareth Mallory, tells the agent upon his return: "It's a young man's game."
But, shaky as his trigger hand may be, 007 is not going down without a fight. There's a wonderful scene in the National Gallery in London where Bond meets the new Q, who turns out to be an insouciant young whippersnapper played by the excellent Ben Whishaw.  As man and boy genius stare at J.M.W. Turner's painting The Fighting Téméraire' tugged to her last Berth to be broken up,  Q sets the tone by describing the image as a "grand old warship being ignominiously hauled away to scrap."   He then boasts that he can accomplish more while working his laptop at home "in my pajamas."  Guys like Bond, he implies, are only still around because "Every now and then a trigger has to be pulled."
"Or not pulled," 007 replies before going in for the conversational kill.  "It's hard to know when you're in your pajamas."
Craig's searing, stoic performance serves as a flinty counterpoint to Javier Bardem's flamboyant turn as Silva, a former MI6 operative and computer genius who has stolen the list of every NATO agent embedded in enemy camps across the globe and is slowly blowing their covers. Bardem vaults into the pantheon of Bond villains by playing Silva as a bleach-blonde, computer savvy Anton Chigurh, who appears to have a thing for Bond. Even more remarkable, when Silva reveals this attraction to his bound former colleague by caressing his chest, 007  coolly alludes that it wouldn't be the first time he's gotten it on with a guy.
Related Story: Is Bond Bi? Daniel Craig and Javier Bardem Weigh In Separately On Their Flirtatious Scene Together in Skyfall
Silva has a different kind of hard-on for M, who turns out to be the reason he has hatched his evil plan, which, like the rest of the movie, is more plausible and human-scale than a lot of the world-domination hoo-ha that has taken place in previous Bond films. "Think on your sins," is the warning message that Silva repeatedly sends M, and when he eventually recounts the blood-curdling turn of events that led him to turn his back on his country, it's difficult not to have some empathy for him.
Skyfall has most of the familiar ingredients of Bond film: Beautiful women, intense action scenes, a charismatic villain and sleek cars — the Aston Martin DB5 makes a cameo appearance that will be talked about for a long time. The movie pointedly eschews the spy gadgetry of earlier Bond films to focus on human circuitry, and the pivotal surprises that the movie delivers in the final scenes pack a lot more wallop than the climactic explosions. You won't find me spilling any spoilers though. Not unless martinis are involved.
Follow Frank DiGiacomo on Twitter.
Follow Movieline on Twitter.