Matt Damon Says It's Unlikely He'll Be Bourne Again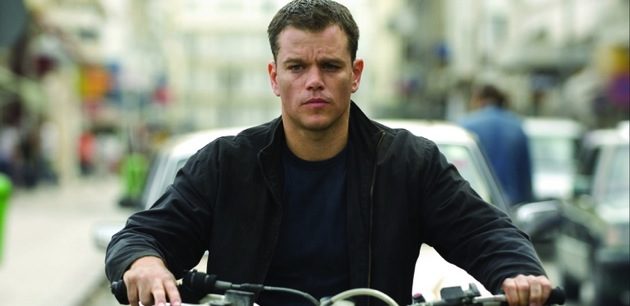 The odds of Matt Damon returning to the big screen as Jason Bourne are looking longer than ever judging from a conversation I had with the actor on Tuesday night. Damon, who's still sporting a shaved head for his work on the sci-fi thriller Elysium, was part of the starry crowd that turned out for a special private screening of Argo, which was beautifully directed by his bud and Good Will Hunting co-writer Ben Affleck.  During a dinner at the Porter House steakhouse in the Time Warner Center, I asked Damon if there had been any movement on reports that he could reprise his role after Jeremy Renner's portrayal of Aaron Cross in The Bourne Legacy, another agent in the Robert Ludlum-created universe, this past summer.
"There has not been any movement,"  Damon told me, explaining that though "I've always been open to it as long as Paul Greengrass directs, I don't think he's going to do it."  Damon laughed when he said this, as if, perhaps, he was downplaying how Greengrass really felt about The Bourne Legacy, or perhaps because he had his own falling-out with Gilroy — who has been a writer on every Bourne film and directed Legacy — over the script to the third movie, The Bourne Ultimatum.
Asked why Greengrass was loathe to return to the franchise, Damon said that although he hadn't seen Legacy  yet,  "from what I understand, it kind of relives [The Bourne Ultimatum] from a different perspective." (Legacy is meant to take place concurrently with the events of the third movie, and Jason Bourne is referenced.)
"What that means, because they use our actors and characters, is that whatever they said [in Legacy] is true and so we'd have to acknowledge it in any Bourne movie that we'd do.  And that makes it really tough," Damon said with another laugh, noting:  "I don't think we can do the Dallas it-was-all-a-dream scenario . I don't think the audience would go for that after they paid money to see a movie."
"I'd really love to do another one because I love the character," Damon said, but then he pointed out another issue that would make it  "a real struggle to extend the franchise": Bourne's search to "find his identity" was what drove him through the first three movies. Now that he has answered that question, Damon said, "where do you go next?"
Have any ideas, Bourne fans?  Leave them in the comments box below, or copyright them and have your people contact Paul Greengrass' people.
Follow Frank DiGiacomo on Twitter.
Follow Movieline on Twitter.