Trailer for Ben Affleck's Argo Teases Bizarre Slice of Hollywood-CIA History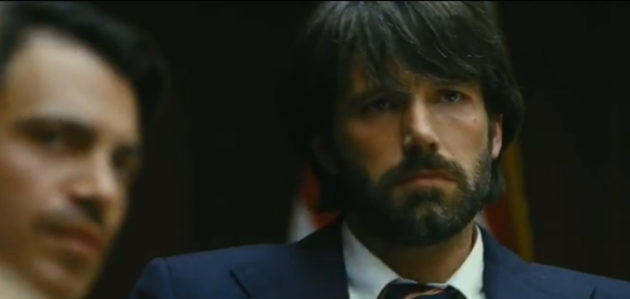 Ben Affleck, director, makes his most ambitious movie yet in this fall's Argo, the crazy true (and until recently, secret) story of how the CIA attempted to rescue six American diplomats during the 1979 Iran hostage crisis by disguising them as a film crew working on a science fiction movie. The first trailer for Argo ranks up there with the best we've seen all year, setting up the stranger-than-fiction premise with juicy moments from veteran thesps (John Goodman! Alan Arkin!) and up-and-comers (ladies and gentlemen, Scoot McNairy) alike as Affleck serves up a bizarre slice of history.

Affleck directs from a script by Chris Terrio (based on Joshuah Bearman's engrossing 2007 Wired article "How the CIA Used a Fake Sci-Fi Flick to Rescue Americans from Tehran"), casting himself as CIA officer Tony Mendez, the orchestrator of the so-called "Canadian Caper." He's joined by Goodman as Planet of the Apes Oscar-winner John Chambers, the Hollywood make-up artist who helped Mendez set up the operation, and Arkin as a producer delivering choice zingers ("If I'm doing a fake movie, it's going to be a fake hit!").
In addition to folks like Goodman, Arkin, Victor Garber, Bryan Cranston, Michael Parks, Zeljko Ivanek, Affleck tapped a few rising actors to fill out his cast: Scoot McNairy (Monsters), Christopher Denham (Sound of My Voice), and Kerry Bishe (Red State) join Tate Donovan, Clea Duvall, and Rory Cochrane as the six imperiled diplomats.
Add in the muted '70s palette and sense of humor tempered by life-and-death stakes and you've got what promises to be an intriguingly layered ride, if Affleck the director can pull it off. Argo is slated for release on October 12, gunning for awards season.
Verdict: If it measures up to the true story and the article it inspired, this could be great. Thrill me, Affleck.