POLL: Time For The Bald Truth − Who's The Best Blofeld In The James Bond Franchise?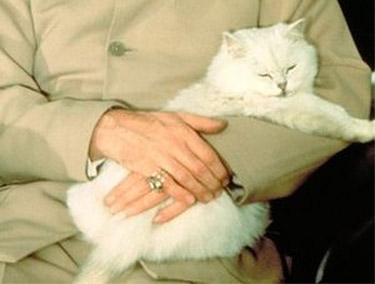 Almost as enduring as James Bond himself, Ernst Stavro Blofeld was a supervillain caricature even before Mike Myers turned him into Saturday Night Live creator Lorne Michaels with a skull cap as Dr. Evil in the Austin Powers franchise.
In his first two Bond film appearances, From Russia with Love and Thunderball, the nefarious head of SPECTRE was shown only from the chest down as he stroked his  white cat and, like Darth Vader, required two — at the time, uncredited — actors to play him: Anthony Dawson handled the body portion of Blofeld while Eric Pohlmann provided the voice.  That changed in the 1967 Bond film You Only Live Twice when, in a dramatic reveal, Donald Pleasance became the initial face of Blofeld, although not for long.  The appropriately fiendish looking Telly Savalas played the villain in On Her Majesty's Secret Service; then Charles Gray took over in Diamonds Are Forever to play multiple Blofelds thanks to a plotline involving the creation of dastardly doppelgangers through plastic surgery.  (Cloning was not yet in vogue in the movies.)
In the opening sequence of For Your Eyes Only, an uncredited character who is presumably Blofeld — the cat and the clothes certainly leave that impression — is finally dispatched by being dropped into a smokestack by Agent 007. As was the case with Blofeld's first two cinematic appearances, he is portrayed by two actors: John Hollis (body) and Robert Rietty (voice). And yet, the baddie manages to make one more appearance in the independently produced Never Say Never Again, where he is played by Max Von Sydow.
While you're taking a break from trolling Bond chat rooms to see if Blofeld will return during the Daniel Craig era, vote for your favorite Blofeld. We've included even the minimal performances because we are completists at heart, and we know you are, too.
If you haven't voted for you favorite Bond movie, that poll is still open, too, and Craig's debut turn in Casino Royale is currently winning.
Vote For Your Favorite Bond Movie Here.
Follow Frank DiGiacomo on Twitter.
Follow Movieline on Twitter.