Oogieloves Bombs With Worst Box Office Opening Of All Time, Still Planning Sequels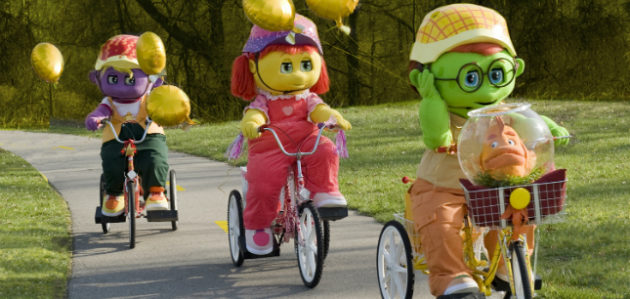 Oh, those Oogieloves — even a record-setting, all-time low worst box office opening of all time can't keep 'em down. At least, according to Oogieloves mastermind Kenn Viselman, who managed to spin the G-rated kiddie pic's abysmal $448,131 three-day take (that's roughly $207 per screen) into something positive.

Debuting to shockingly low $47-per-screen results on Wednesday, Oogieloves was headed for the wrong kind of notoriety even as business picked up ever so slightly over the long holiday weekend; by Labor Day, numbers across its 2,160-theater opening had risen to $72 per screen. Improvement!
Speaking with The Wrap on Monday, Viselman, who boasted of turning the Teletubbies into a phenomenon and opened Oogieloves in wide release under his own Kenn Viselman Productions banner, embraced the silver lining:
This was never about box office," Viselman told TheWrap Monday morning. "It was about exposure. We've now got the notoriety we were trying to get for weeks before the film opened," he said. He said that a financing glitch weeks before the release hurt the marketing of the film.

"I won't say we're not disappointed, for our team and for the exhibitors who both did a great job," he said. "But this wasn't made to win the Academy Award — it was made to get parents to get up and dance with their kids. I know from talking with parents who did take their kids to see it, that they loved it.

"The attention we're getting as a result of this is going to help our video on demand and DVD campaigns," he said, "and it's going to help the next films, whether they're theatrical releases or video."
Next films. Ahem.
The "interactive" children's adventure involves three giant candy-colored creatures called the Oogieloves trying to find five magical balloons in time for their friend's birthday party. Along the way they cross paths with a veritable buffet of C-listers (Chazz Palminteri, Jamie Pressly, Cloris Leachman, Cary Elwes, Christopher Lloyd, Toni Braxton) who sing and dance and encourage the kids in the audience to follow suit.
It's worth noting that in spite of the plot and box office response, Oogieloves did garner some critical support. Over at Rotten Tomatoes it boasts a 32 percent Tomatometer rating; one parenting-oriented publication called it "enthralling for preschoolers."
My friend Nick Robinson took the liberty of Tweeting his Oogieloves theatrical experience yesterday in a mostly empty theater — if singing and shouting and dancing and blowing kisses at the screen is encouraged in Oogieloves, why not live-Tweeting? If you're not among the target demographic of parents enduring talking vacuums and Doc Brown in a sombrero for the sake of their toddlers, this might give you the best idea of what it means to live through Oogieloves:
Reward Robinson for doing this so you don't have to by following him on Twitter.
And can we all have a moment of silence for poor Cary Elwes? Here's a clip of him in Oogieloves as "Bobby Wobbly." It's worse than I'd feared.
Previously: So, WTF Is An Oogieloves, Anyway?
Follow Jen Yamato on Twitter.
Follow Movieline on Twitter.