Bond's 'Skyfall' Olympics TV Spot: 007 Sticks the Landing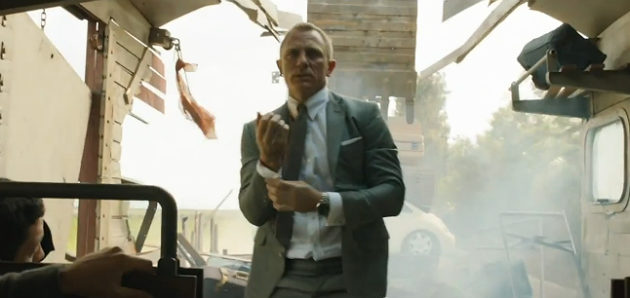 Accompanying Her Majesty the Queen, James Bond — AKA Daniel Craig — sported a bemused expression in the cheeky sky-diving promo that kicked off the 2012 Summer Olympics in London yesterday. But later in the telecast, Bond fans got another treat: A brief but potent new TV spot teasing November's Sam Mendes-directed Skyfall with glimpses of 007 in action, both in the field and with a few gorgeous ladies.

Clocking in around half a minute, the new Skyfall TV spot keeps things short, sweet, and action-packed; the only line heard is Craig's steely "007, reporting for duty." There's something for every kind of Bond fan here: car porn, gun porn, seductive femme fatales, exotic locales, Bond striding confidently through a shootout, a fleeting look at blond-haired baddie Javier Bardem, explosions, motorcyle stunts, and various intrigue.
That said, it's a deceptively simple shot of the bespoke Bond adjusting his cufflinks after sticking a train car leap that tantalizes the most. Let's hope Skyfall has even a fraction of this swagger, savvy pacing, and steely energy of this ridiculously short sneak peek.