Daniel Craig and the Queen Leave Olympics Crowd Shaken, Stirred with Pre-Recorded Opening Ceremony Skit (VIDEO)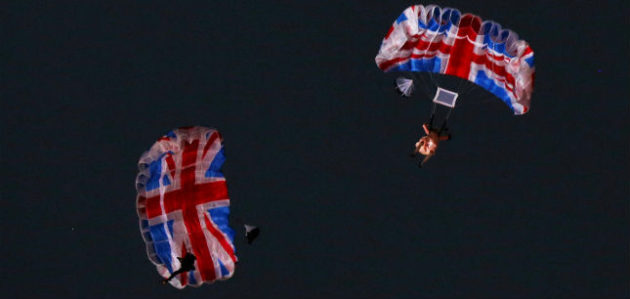 Daniel Craig was at Her Majesty's Service for the opening ceremony of the London Olympics. The James Bond franchise's latest 007 appeared with Queen Elizabeth and her Corgis in a pre-recorded skit that had the secret agent and the queen meeting in Buckingham Palace.
London's Mail Online reports that the Queen told Craig, "Good evening, Mr. Bond," before accompanying him on a helicopter ride to Olympic Stadium with Ian Fleming's enduring secret agent.
The film then gave way to real life as their stunt doubles sailed into Olympic Stadium beneath Union Jack  chutes, eliciting gasps from the crowd.
After touchdown, the real Queen, her hair strategically mussed, then reappeared to take her place in the royal box.
Although, sadly, no Rage-virus-infected zombies showed up to spike the adrenaline levels of the gathered athletes, the ceremony's director Danny Boyle didn't completely ignore his darker instincts for the presentation, which was entitled Isles of Wonder.
The Child Catcher from Chitty Chitty Bang Bang put in an appearance and Harry Potter baddie Lord Voldemort menaced in the form of a giant inflatable that was reminiscent of Pink Floyd's The Wall concert tour.  Fortunately, a small army of approximately 30 Mary Poppinses swooped down into the stadium on umbrellas to save the day.
That's a weird act for the athletes to follow.
Follow Frank DiGiacomo on Twitter.
Follow Movieline on Twitter.