What If the 2012 Olympics Were Inspired By The Films of Danny Boyle?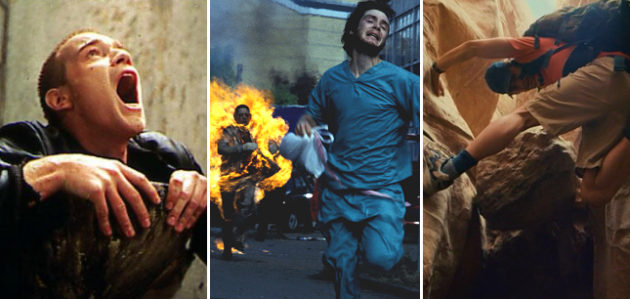 Nowadays the Olympic Games' opening ceremony is masterminded by a big time movie director. Beijing 2008 commenced with the vision of Zhang Yimou (Ju Dou, Raise the Red Lantern, House of Flying Daggers) and in London this year the reins — excuse me, the rings — have been handed to Danny Boyle, with a British history theme. But what if the Games themselves took inspiration from Boyle's filmography — like, say Trainspotting, 28 Days Later, and 127 Hours?

According to the BBC, Boyle's opener will be a reproduction of the British countryside representing British history with over 10,000 voulunteers and even more costumes and props. It will open with a reading of a passage from Shakespeare's Tempest and will also include maypoles, a 23 ton bell and a moshpit. (Really!)
Color me intrigued enough to actually watch primetime network television for the first time since I got Hulu+ on my iPad. It's also got me wondering what would happen if the IOC just handed EVERYTHING over to Danny Boyle. Were that the case, perhaps he'd let elements from his filmography influence not just the pomp and circumstance, but the games themselves.
Picture this:
- Traditional Olympic fanfare is replaced with Iggy Pop's "Lust For Life"
- Leonardo DiCaprio, hopped up on party drugs, is unleashed to wander through the "Beach Rave" segment of the Opening Ceremony
- Rock climbing has very much been scratched as an Olympic event
- To boost times in track events, all runners will be chased by rage virus-infected undead ghouls
- The longjump to be made extra poignant by taking place in the cold vacuum of space to the music of John Murphy and Underworld
- Living arrangements at the Olympic Village to involve a lot of mocking interviews by other roommates
- Athletes will win their gold medals by exploiting a number of coincidentally corresponding life lessons. Poignant flashbacks to play along on jumbotron.
Got any Boyle-isms to add?
Follow Jordan Hoffman on Twitter.
Follow Movieline on Twitter.