Magic Mike: Channing Tatum and Co. on Thongs, Dance Routines, and the 'Dark' World of Male Stripping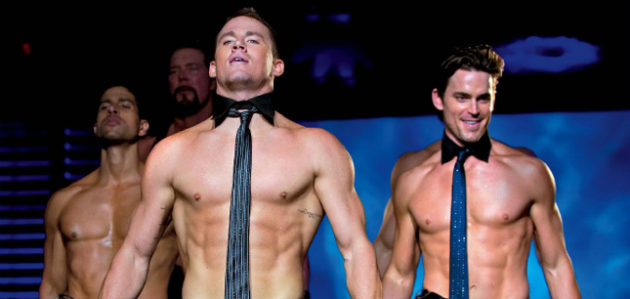 "We're trying to do our part to objectify men for the first time in movies." Steven Soderbergh's male stripper pic Magic Mike shimmies into theaters today powered by a charismatic turn by Channing Tatum and a hard-bodied supporting cast — but the tale isn't all thongs, pelvic thrusts, and bachelorette party thrills. (Well, okay — it's got a lot of those things, too.) What secrets did Soderbergh, Tatum, and co-stars Alex Pettyfer, Joe Manganiello, and Matt Bomer spill about on-set nudity, overzealous extras, cross-dressing, and Tatum's real life experience as a male stripper?

The director and cast, along with newcomer Cody Horn, shared these and more stories recently in Los Angeles. Read on for their best anecdotes, advice, and revelations…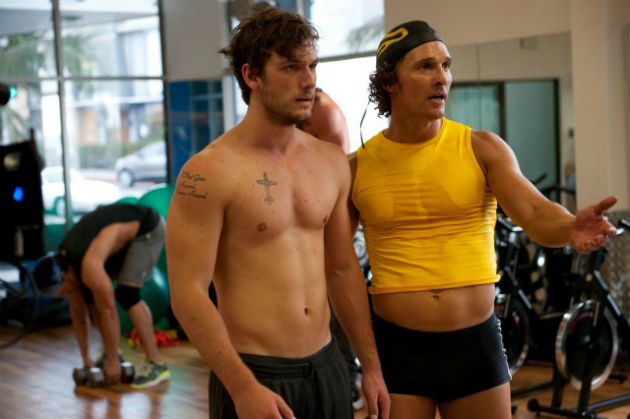 1. Magic Mike is based on observations from Tatum's eight-month stint as a male stripper. How did he get into it — and why did he ever stop?
"Look, I was eighteen years old and I worked three jobs," Tatum began. "This was just one of them, and I really enjoyed performing. It was probably my first performing job ever." So what ended the 19-year-old Tatum's stripping career? "I really like to dance, obviously, but then I didn't really love taking the clothes off at the end…"
2. Tatum on the "very dark world" of male stripping…
Magic Mike depicts a backstage world filled with camaraderie, g-strings, and baby oil, but as Pettfyer's Adam discovers, it's also one filled with drugs, casual sex, and recklessness. Tatum remembers the real world of male stripping as an even darker place. "The world in itself was just a very dark world in a way. I don't think we even scratch the surface of really how dark that place can get and how slippery of a slope it can actually be. This was probably the most palatable version of this movie. Otherwise, you wouldn't want to see it twice, you'd just be like, 'Okay, I feel dirty now.' I think we blade-ran that topic."
3. Tatum denies allegations that he stole Magic Mike's story from two ex-stripper acquaintances. Also: Everyone, including his Magic Mike co-stars, has seen Tatum's old stripping videos.
"Look, there's nothing that's factual in this whole movie other than I was an eighteen year old kid and went into this world and I dropped out of college and playing football and was living on my sister's couch," Tatum explained. "There's not one character that I took from my real life. This is just a world that I went into and that I had a perspective on and we created everything from a fictional place."
Tatum has mixed feelings about his would-be accusers. "Those guys have been trying to make money off of me since I've gotten into this business," he said. "Literally, London was one of the guys that sold the video that essentially, thank God, my friend here [Soderbergh] saw and liked it and then we made a movie of it. They're just very interesting people. I don't want to say anything bad about them because they're part of the reason why I think this world is so interesting.
"They're very interesting, intriguing, bizarre characters and I'm thankful for the weird people out there because they're some of the most creative people. I mean, watch his YouTube video. It is really, really entertaining. I mean, that's how he starts every one, and you're just like, 'Oh, we're back, baby. We're back!'"
Manganiello: 'The world famous Jungle Boooooy!'
4. Picture this: Full-length. Dance. Routines. (Yes please.)
Soderbergh and his cast filmed a dozen full-length stripping routines for the film, although only snippets of each — including Bomer as a living Ken doll, Mangianello painted head-to-toe as a golden god — made it into the film. Those full, unbroken dance scenes would make quite the popular DVD bonus feature, but Soderbergh isn't sure the entire audience would appreciate all the "gory parts." "I think it's not for men, these things," said Soderbergh. "It made me really uncomfortable to watch them. To watch them all back to back was really disturbing. So, I don't know."
5. About that one time Channing Tatum dressed in drag as Marilyn Monroe…
Tatum not only strips down to a thong, he dons a halter dress and wig in Magic Mike and serenades Pettyfer in a scene also inspired by real life. "Yeah, I did that to a buddy of mine on his birthday. He was eating at a restaurant and I walked in as Marilyn and basically sang him happy birthday and embarrassed the hell out of him. So, we just decided to put it in this movie for fun."
6. Though they got a bit overzealous at times, the female extras on-set became the guys' biggest supporters.
McConaughey famously had his thong ripped right off during the filming of his big strip scene (which stayed in the final cut), but having female extras who were really, really into their work helped the cast do their jobs. "I think those were all happy accidents when those happened," recalled Bomer. "It was a part of the world, and if they wanted to lick you in certain places or touch you, or whatever, it was welcome. It was just a part of the world we were creating."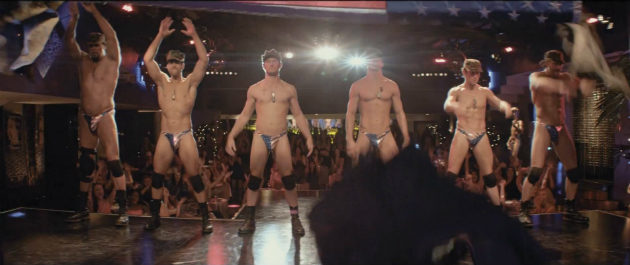 7. How to rock a thong: Fellas, take note.
"As far as trusting wardrobe, it is one of the larger leaps of faith to trust a thong," said McConaughey. "It weighs like what a dollar bill weighs. It weighs nothing, and you're going, 'At the end of this performance, this is the only protection that I have.' So, the first time you put it on you're going, 'What is every possible angle I can be in?' I've got to check to see if it's really covered, everything is covered."
Still, added Tatum — who was known to pull double duty as producer between scenes standing around in just his red thong — "sometimes they completely betray you."
8. Magic Mike, art house movie?
"I think we all signed on to this one coming from the independent spirit. This was filmed as this little indie movie expose and I think we all signed on to work with who we got to work with, on the script that we got to work on, in the world that we got to work in," recalled Manganiello. "The big shock to me was when all the studio executives were coming to filming every day. I went, 'Wait a minute, this little tiny art house movie… wait, everyone is going to see what I just did to that girl?'
"I think the fact that it's snowballed into what's snowballed into is exactly what you hope for. I mean, that's it. You work on this project to make the artists happy and you wind up, hopefully, making the bill payer happy, too."
9. Why men should be just as eager as ladies to see Magic Mike:
"Men tend to define themselves by what they do, and so if you're dealing with a character who's trying to figure that out, or multiple characters, then there's something there for guys, too," explained Soderbergh. "When we tested the film the female scores were not significantly bigger than the male scores. I mean, guys liked it. The trick is, I think, getting them to come, but we'll see what happens."
And if that doesn't convince the guys out there, Manganiello has a more practical reason for buying a ticket on opening weekend: "I think if you're a smart, single guy you're going to go see this on a Friday or Saturday night… because guess who's going to be in the theater?"
"If you're really smart you'll wear a fireman's outfit," added Tatum. "And you just might go home with a few numbers, or even better, someone."
So fellas, don't be scared! And just remember one last bit of advice, from Manganiello. "Don't forget your axe."
--
So just think... only a few years ago, Tatum was stripping for cash (and, apparently, botching the "YMCA" dance). Now he's turned that skeleton in the closet into a major Hollywood picture that has legitimized him as a serious actor more than any of his previous films. As they say, there's no shame in that game.
Magic Mike is in theaters today.
Follow Jen Yamato on Twitter.
Follow Movieline on Twitter.