Alex Pettyfer Blasts Los Angeles, Reveals Insane Crotch Tattoo in Candid Interview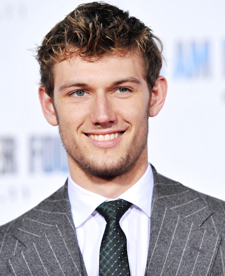 Before we get into Alex Pettyfer's vulgarity-laden new interview with VMan magazine, let's remember a couple of things: These quotes might be taken out of context. When the I Am Number Four says he wants to "run all the c*nts" out of L.A., he probably doesn't mean to be gender-specific. When he calls L.A. a "sh*thole," he's probably just... being correct. And when he talks about the tattoo over his crotch that says "Thank You," he probably... well, I'm not sure about that one. Anyway, he was nice to us!
In the new issue of the seasonal magazine, Pettyfer unleashes a less-than-love letter to Los Angeles. Dig these inspired quotes!
"L.A. is growing on me a little bit but it's still a shit hole. I think it's this insidious pool where nearly everyone lives in fear. Geographically it's fantastic, but socially it's disgusting. I wish they'd run all the c--ts out."
"Being an actor is like being in prison. You go, you serve your time, you try and replicate Johnny Depp's career and then you move to Paris."
[Pettfyer] revealed to the magazine that he has a tattoo above his crotch that reads thank you. "In case I forget to say it," he explained while winking.
You can't say that the man doesn't think about BJ etiquette!
· Alex Pettyfer bashes women, 's--t hole' LA in explosive new interview [E!]