Magic Mike Closes LA Film Fest With A Bang, And Beefcake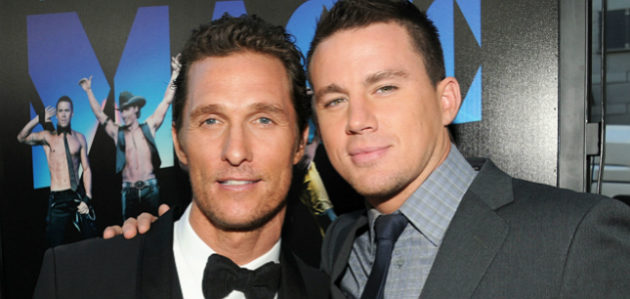 The promise of seeing Channing Tatum, Matthew McConaughey, and their manscaped compatriots bare (almost) it all in Steven Soderbergh's Magic Mike has quickened the collective pulse of the film's target audience in the weeks leading up to Friday's release. But while ladies and many gents will get a titillating thrill from the scantily-clad dance numbers and cheesy-fantasy bumps 'n' grinds (and there are so, so many), what elevates the film beyond its "Showgirls-with-men" concept is the depth and naturalness in the story of 30-year-old star performer Mike (Tatum) and his pursuit of the American dream as one of the "Cock-rocking Kings of Tampa."

Based loosely on Tatum's eight-month experience as a male stripper in his teens — a time during which Tatum admits to witnessing a much more dark and depressing version of events than what producing partner/writer Reid Carolin transposes to the script — Magic Mike flies on Tatum's charismatic turn as the male stripper at the center of this world filled with g-strings and crumpled dollar bills, the most ubiquitous, and sweat-drenched, tokens of power in this strange little world. An ambitious would-be entrepreneur who diligently saves the cash he earns working nights at McConaughey's all-male dance revue, Tatum's Mike dreams of starting his own custom furniture business but bad credit and a crap economy — and, more problematically, his hedonistic lifestyle — keep him from realizing his ideal life. When he meets an eager-but-directionless college dropout (Alex Pettyfer) and takes him under his wing, Mike sees a chance to mentor the kid. But the more that success comes at the club, the more Mike sees his real goals slipping further out of reach.
Closing the LA Film Fest on a star-studded note — and with plenty of testosterone on the red carpet — Magic Mike should ride into release on Friday with healthy word of mouth, if only judging by the enthusiasm level in the ladies room following a press screening last week. Granted, a number of men seemed to have been left lukewarm by the sight of Tatum & Co. in various states of undress in the film: Cos-playing as firemen, Marines, doctors, and the like, air-thrusting in the daintiest of thongs, dry-humping dozens of female club extras.
But the ladies room? Positively abuzz. A few loudly complimented the costume design, which boasts more thongs than we've seen since Baywatch — and those whale tails weren't sported by oiled-up actors like McConaughey, who, set legend has it, improvised a "tuck and roll" move following a wardrobe malfunction (an overzealous extra was the culprit) that seems to have made it into the film, a glimmer of panicked realism flickering across his face.
There's deeper prodding to be done about the men who protest too much about male nudity in Magic Mike, joyous moments of man-butts and chests, mostly, shot with plenty of humor. And there's no real tit for tat, so to speak, with the few instances of female topless nudity seen in the film; lady boobs don't really equal dude butts on the nudity continuum, but that's how it is. Likewise, female-performer strip clubs and their male-performer counterparts are inherently different to boot, a fact that Soderbergh, Tatum, and Carolin rightly recognize — it's generally dimly-lit sexual voyeurism vs. bright and cheesy fantasy spectatorship. But boy, does Soderbergh get that gloriously cheesy vibe.
One could simply call it absolutely spectacular on account of the man meat, which certainly delivers on raunchy, knowing fun. But it's the deeper themes, captured in an observational style, that really make Magic Mike work as more than just a cheap thrill. It may be a stripper movie, but it's also about economic self-determination and the struggle between art vs. commerce — and that goes as much for Soderbergh and Tatum as it does for the characters grasping for dollars, and their creative destinies, on-screen.
Look for Movieline's full review of Magic Mike this week, and stay tuned for more on the film.
Read more from the LA Film Festival here.
Follow Jen Yamato on Twitter.
Follow Movieline on Twitter.