About That Time Magic Mike Extras Ripped Matthew McConaughey's Thong Right Off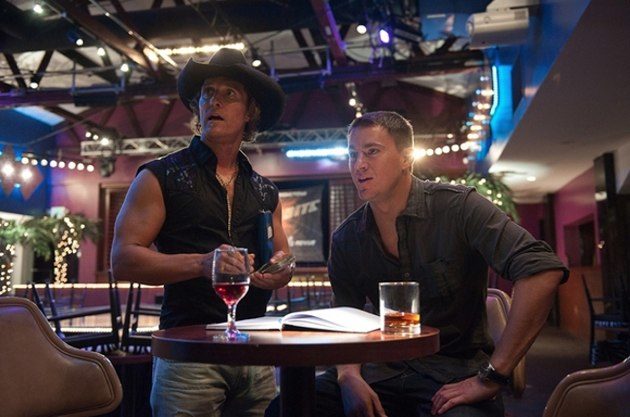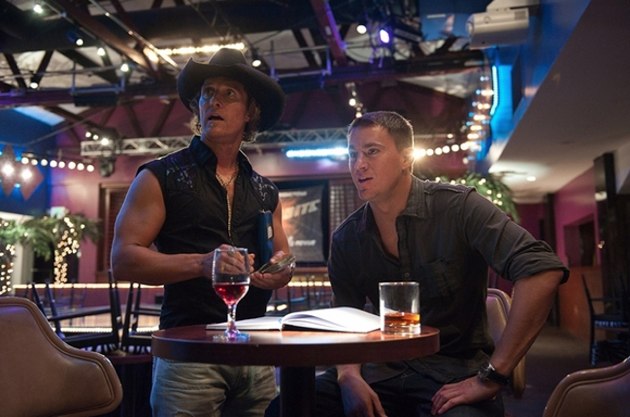 In EW's upcoming cover interview, Magic Mike stars Channing Tatum and Matthew McConaughey fondly remember the moment on set when excited extras tasked with stuffing McConaughey's man-thong with dollar bills accidentally (or not) ripped the banana hammock right off. What's that, EW? You want me to watch a behind-the-scenes video of McConaughey striking poses while Tatum splashes around breakdancing in a pool of water? Well, fine.

(To peek at Tatum stepping up to the McConaughey in said video, head here.)
It took me a good while to come to terms with just how much I actually really want to see Magic Mike even though it's about male strippers and almost nothing in real life appeals to my womanly senses less than men prancing around in g-strings. I blame it on the power of the Channing. McConaughey, Alex Pettyfer, Matt Bomer, and that one guy from True Blood don't hurt, either.
So I guess I understand how these lady extras on the Magic Mike set were swept up in the moment when McConaughey and his magical abs gyrated in their faces or whatever. "Make it rain on McConaughey!" they probably thought to themselves as they scrambled, George Washingtons in hand, toward his oh-so-delicate thong. And then, snap -- OOPS! Let McConaughey retell the moment in his own words:
"I stayed in sequence," he says proudly. "I went for the tuck. [Mimes covering his manhood] I went for the roll. [Mimes doing a forward roll] And I finished the dance."
Like a pro. Good advice to keep in mind, fellas. Especially you, Joey Lawrence of Blossom fame, who coincidentally, in other news, might need to start stockpiling such tips. Because, according to TMZ:
Joey Lawrence is joining the Chippendales.
Whoa, indeed!