Snow White and the Huntsman Reigns Atop Box Office; What Did You Watch?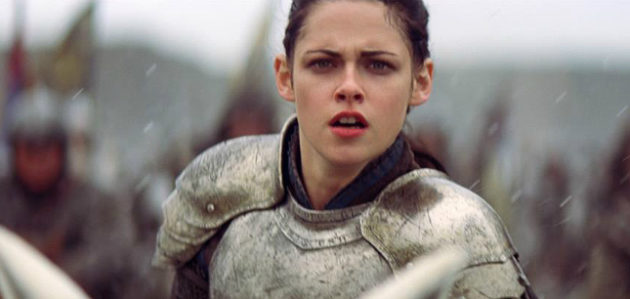 Brava to the dewy-cheeked Kristen Stewart, who opened Snow White and the Huntsman, the weekend's number one movie, by swinging a sword and championing girl power without having to kiss a single vampire! (Those two hunky human suitors and the riveting fabulosity that was Charlize Theron didn't hurt either.) Nice to see girls ruling while boys drooled over the box office -- well, their male-driven movies (Men in Black 3, Avengers, Battleship), anyway. Tell us what you saw this weekend as we go to the receipts!

1. Snow White and the Huntsman
Gross: $56,255,000 (new)
Screens: 3,773 (PSA: $14,910)
Weeks: 1
Well, well, well. Stewart's first big non-Twilight movie made a strong showing over the weekend, outdoing Men in Black 3's debut with the one-two-three punch of KStew, Chris Hemsworth, and Charlize Theron. Coming in with the fourth biggest opening of the year, the dark fairytale soared on dazzling visuals even if audiences only gave it a "B" CinemaScore rating.
2. Men in Black 3
Gross: $29,300,000 ($112,300,000)
Screens: 4,248 (PSA $6,897)
Weeks: 2 (Change: -46.3%)
Foreign tallies will help Will Smith and Co. get over their 46.3 percent drop-off – even at only $112 million domestically, the sci-fi threequel has topped $386 million globally, and counting. Still, it's not quite time to get MIB4 in gear, seeing as the reported production budget was a whopping $225 million alone.
3. The Avengers
Gross: $20,273,000 ($552,737,000)
Screens: 3,670 (PSA: $5,524)
Weeks: 5 (Change: -44.7%)
$1.35 billion worldwide and counting. That is all.
4. Battleship
Gross: $4,810,000 ($55,123,000)
Screens: 3,144 (PSA $1,530)
Weeks: 3 (Change: -56.5%)
Say bye bye to Battleship as it continues sinking ever faster down the Top 10. Universal's thanking their lucky stars for the foreign markets right about now, as domestic take has totally a paltry $55.1 million in three weeks.
5. The Dictator
Gross: $4,725,000 ($50,835,000)
Screens: 2,649 (PSA $1,784)
Weeks: 3 (Change: -49.1%)
Still just the third-best performing Sacha Baron Cohen movie to date.
N/A Piranha 3DD
Gross: $179,000 (new)
Screens: 86 (PSA $2,081)
Weeks: 1
Well, they tried. Kinda.
[Figures via Box Office Mojo]