REVIEW: Kristen Stewart Makes a Feisty But Boring Princess in Snow White and the Huntsman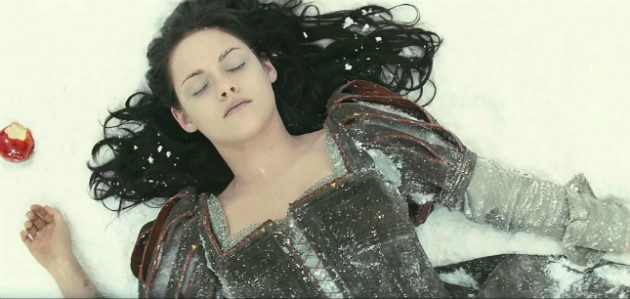 Why can't heroines just be heroines anymore, instead of micromanaged personalities who may as well have the words "Role Model" tattooed across their foreheads? That's the fate suffered by poor Kristen Stewart as the warrior princess athlete orphan Christ figure Snow White in Snow White and the Huntsman. She's not just Joan of Arc — she's Joan of Archetypes.

Moviegoers who love Kristen Stewart — and they include a distinctive subgroup who avoid the Twilight pictures as a vampire eschews sunlight — have long been waiting for Snow White and the Huntsman, hoping to see this enormously appealing actress in a role that is, at last, worthy of her. I think Stewart has held her ground admirably enough in the Twilight pictures, particularly the profoundly crazy-ass Breaking Dawn – Part I, which gives her character something to do other than swan about moodily. (They don't call her Bella Swan for nothing.) She also made a fine and fierce Joan Jett in Floria Sigismondi's The Runaways. But Snow White and the Huntsman, the debut feature of Rupert Sanders, does her no favors. This Snow White is clearly designed to be a young woman of agency, not a girly-girl victim who waits around for a prince to save her. The problem is that she's so admirable, so aggressively self-reliant, so beloved and respected by little forest animals as well as simple-minded villagers, that she barely has time to be a woman. Stewart is laced so tightly into her character that she can hardly breathe, let alone give a performance. Luckily, Charlize Theron — as the really, really wicked Queen Ravenna — is on hand to give us something to watch, and boy, does she.
This is, of course, a "dark" version of the fairy tale, not a cheerful one, and as written by Evan Daugherty, John Lee Hancock and Hossein Amini, it at least half-delivers on that score. The picture opens with a quick backstory, revealing how the young and ravishing Ravenna tricked Snow's father, a poor widowed king, into marrying her before murdering him on their marital bed. Along with her hapless twit of a brother, Finn (Sam Spruell) — the two have a quasi-incestuous, master-and-servant relationship — she takes over the kingdom, turning it into a place of darkness and death, as was her plan all along. She also locks away the orphaned Snow, who starts out as a little girl before morphing into the comely but feisty K Stew.
Snow eventually manages to escape into the forest, which, under Ravenna's rule, has become a wasteland in which tangled branches transform into writhing, hissing serpents and flowers that appear to be made of mussel shells glisten with venomous portent. Snow needs help, but just a little. And when a sturdy local huntsman shows up — he's played by Chris Hemsworth, of Thor and The Avengers — the two reluctantly join forces, though Snow has not forgotten her first love, a duke's son named William (Sam Claflin), even though we can all see how boring, if good-looking, he is.
Snow White and the Huntsman isn't as willfully hammy as that other recent entry in the Brothers Grimm source-material parade, Tarsem Singh's Mirror, Mirror, and it's not as enjoyable either, though admittedly it's a completely different creature. Production designer Dominic Watkins sure knocked himself out here: One of the movie's most fantastic backdrops is a fairy refuge inhabited by slippery, naked little creatures with pointed ears and oversized peepers; their homeland is also populated by stands of mushrooms, each sporting a single, blinking eye, and moss-covered turtles that provide handy landing pads for clouds of butterflies. Most magnificently, this forest is also home to a dignified-looking white hart with a set of antlers that spread as wide and as tall as the branches of an oak. (They resemble, in the good way, an over-the-top showgirl headdress.)
The hart bows in respect to Snow, because it's clear she has the power of healing, of leadership, of having fabulous hair even though she's been fighting her way through an ugly forest for days on end. She's also a great warrior, as we see during the picture's lavish but oddly unexciting climactic battle sequence. She doesn't even need a cadre of great English character actors disguised as dwarves to save her, but they show up anyway. (The gang includes Eddie Marsan, Ian McShane, Bob Hoskins, Ray Winstone, Nick Frost and Toby Jones, all shot to appear height-challenged.) Stewart moves through the picture looking noble and sadly dull, unwittingly setting the stage for the evil queen to steal her show.
Theron is marvelous here, playing Ravenna as a cooler-than-cool customer who'll do anything — include draining the blood from innocent young beauties — to stay young-looking. She works wonders with dum-dum dialogue along the lines of "My beauty…fades," and struts around boldly, doing justice to Colleen Atwood's luxurious glittering-metallic costumes. (At least one of these appears to be an obvious nod to the late British designer Alexander McQueen, featuring a collar of shiny black plumes that fan around the queen's face like an ornithological lion's mane.)
Snow White and the Huntsman looks great. And yet even there, it's often guilty of trying too hard. The picture was shot by Greig Fraser (the DP behind great-looking pictures like Bright Star and Let Me In), and many of its images are arresting. But it also features a number of "what for?" visuals that have no real reason to exist other than that they look cool. At one point Ravenna submerges herself in a creamy-white milk bath (cool!) and emerges as a figurine coated in porcelain (wha…?). Clearly, this is one of her special magic beauty treatments, but it doesn't make sense even in a fantastical way. And it's emblematic of all the ways in which Snow White and the Huntsman works overtime to wow us, to make us shiver, to remind us that, hey, girls can be strong too! This Snow White is no wussy princess. But her tomboy nobility is no match for the imperious Ravenna and her succession of liquid-stainless-steel gowns and spiky medieval-gal-on-the-rag headgear. Don't see Snow White and the Huntsman for its ho-hum empowerment message. See it for the killer clothes.
Follow Stephanie Zacharek on Twitter.
Follow Movieline on Twitter.