Kristen Stewart and Co. Finally Go On the Road at Cannes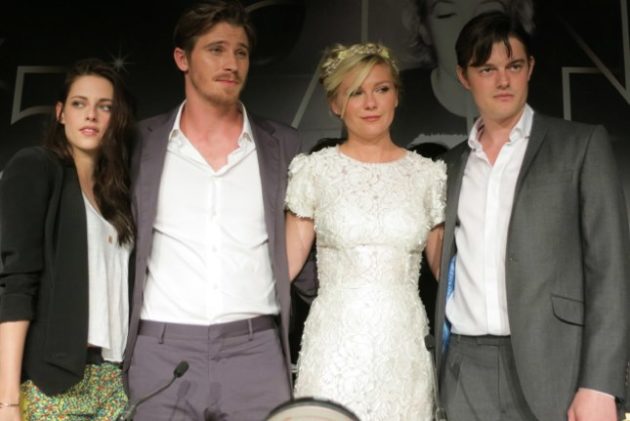 More than half a century has passed since Jack Kerouac's On the Road was published and over 30 years since Francis Ford Coppola bought the rights to the book. Only today, in one of the Cannes Film Festival's most anticipated events, has director Walter Salles's adaptation finally screened for its first audience.

Stars Kristen Stewart, Garrett Hedlund, Kirsten Dunst and Sam Riley (pictured above L-R) joined director Walter Salles and other On the Road principals to discuss the film at a press conference on Wednesday. Shot over 100,000 kilometers and with years of research heading into the project before shooting, the new film based on the Beat Generation bible finally made good on numerous failed adaptation attempts in the past. "My dad bought the rights in 1979 and aspired to make the movie with a handful of filmmakers through the years," said Roman Coppola, a producer on the film, at the press conference. "Then Walter said he'd like to take it on, and he's such a natural fit for this kind of material."
Salles has indeed put in his own time on the road — most notably in 2004 when he directed The Motorcycle Diaries, another overland film based on the famous travelogue by future Cuban revolutionary Ernesto "Che" Guevara. Salles spent five years retracing the route of On the Road before shooting.
"What we're portraying with this film has a correlation with The Motorcycle Diaries," Salles explained today. "It's about the dawn of a new era and a journey from youth to the beginning of adulthood and [young people] trying to find the freedoms that were denied them. And by doing that, they also changed a culture in a country that was very, very conservative."
The film features Riley (ControL) as Sal, who falls under the spell of the intoxicatingly charming Dean Moriarty (Hedlund), who himself chases around America for freedom and an elusive "It." Standing in as surrogates for Kerouac and Beat poet Neal Cassady, respectively, Sal and Dean travel around the country indulging in drink, drugs, sex, fast driving and the whims of youth hellbent on not conforming to post-WWII America.
"I think this is a great time for this to come out now, because young people will discover this book and identify with it in a lot of ways," said Viggo Mortensen, whose character Old Bull Lee was inspired by William S. Burroughs. Perhaps the darkest of the Beats, Lee tries to shed enlightenment on Sal and Dean as they pass through. Mortensen said he was drawn to Salles's approach to the material, which has been viewed by some as difficult (at best) to adapt to the screen given its unconventional style.
"You have to make these characters your own," he said. "I asked, 'How is this film going to be made?' Is it just going to be a piece of Americana and in a box, or are we going to make these characters our own? Some could have made this beautifully photographed and that's it. Or is it going to be beautifully photographed but also embrace the darker sides of the story. It is disturbing sometimes, this movie — drinking, drugs and the women who get left behind."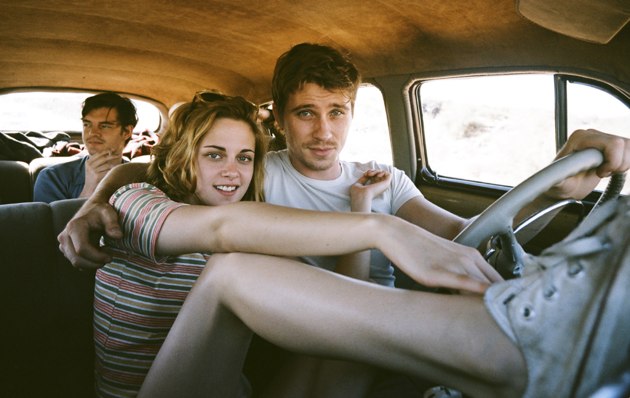 Among the women who get left behind we find Stewart, who co-stars as Dean's ex-wife and longtime mistress (after their marriage) LuAnne. She travels with Dean and Sal through large swaths of America, sharing in their hedonism (and occasionally sharing them). Dunst, meanwhile, appears as the mother of Dean's two children, whom he'd often leave behind as he traipsed across the country (and Mexico) with Sal, jumping into bed (or wherever) with one woman after the next.
"I was 16 or 17 when I spoke to Walter for the first time [about this film]," Stewart told the press on Wednesday. "I was happy I could age a couple of years when I started this movie even though LuAnne was 16 when she started this journey but I was a younger 16," said Stewart. When asked about the sex scenes and the nudity — and there is plenty of that across the board in On the Road — Stewart said she was ready to push the envelope after the more restrained sexuality of the Twilight series.
"I like pushing and watching a genuine experience on screen," she said. "The reason I wanted to do the job was to be provoked as much as possible and then to do it and take it further. We were just going forth, and as long as you're being honest there's nothing to be ashamed of."
"Those characters in the book had the courage to experience everything in the flesh," said Salles, who added that he hopes the film will not only be a window into this particular group of people or a past generation, but also be a vehicle for young people now. "It may be very painful to see what happens to these men and women... [but] the most beautiful thing that could happen is that young viewers of this movie may read this book and have the same passion as we had when we were that age."
Read more of Movieline's Cannes 2012 coverage here.