Kristen Stewart or Chris Hemsworth... or Neither: Who's the Fairest Box Office Draw for Snow White and the Huntsman?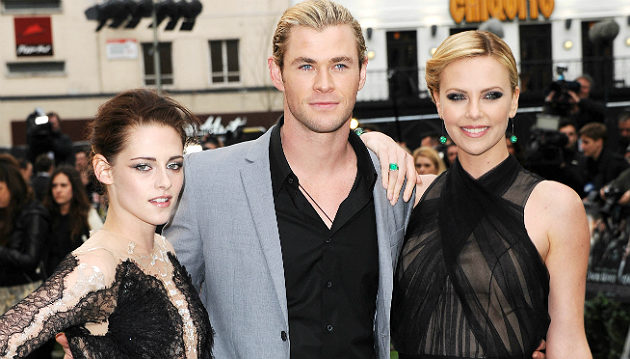 You might guess most folks flocking to theaters this weekend for Snow White and the Huntsman are the legions of diehard fans of Twilight's Kristen Stewart, who stars in the fantasy adventure as the sword-swinging Snow White. Maybe, even, they'll come for co-star Chris Hemsworth — he of Thor and Avengers fame. But surprise, surprise — who'd have thought the big draw, at least for folks who hit opening day today, would be neither of SWATH's up-and-coming talent?

PMC Studios' Beyond the Trailer (owned by Movieline's parent company PMC) caught up with some early Snow White adopters at the AMC E-Walk today, and they told Grace Randolph they were there to see the Evil Queen — Charlize Theron. What's more: At least one woman says she actually saw the film despite K-Stew.
Also: Props to the older lady at 3:50 dropping truth bombs about dead ugly people, who wants to buy presents for Hemsworth's children (even though they'd most certainly be impossibly beautiful Hems-spawn, but whatevs).
Surprised at all the Charlize love? Agree with the consensus that KStew's performance pales in comparison to Theron's near-camp extravaganza? Or are you REALLY in it just to see Hemsworth swing that axe around a forest?
For more movie news, commentary, and reviews, check out Beyond the Trailer on YouTube.