Jodie Foster Talked About Retiring From Acting In 2011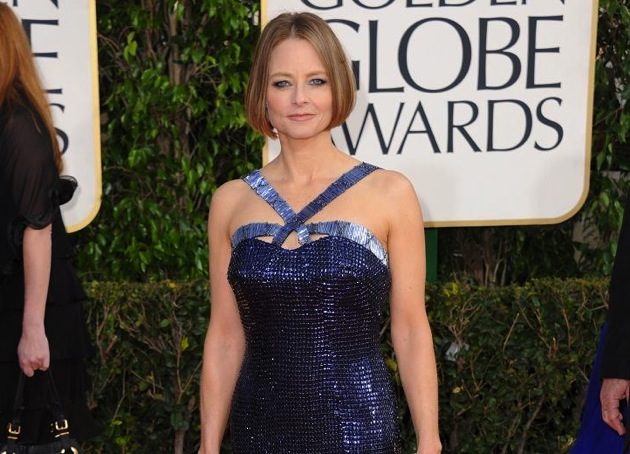 While the rest of the world dissects the coming-out portion of Jodie Foster's Golden Globes speech, I'd like to focus on another potential bombshell the 50-year-old filmmaker appeared to have dropped while accepting the Cecil B. DeMille Award for lifetime achievement:  The suggestion that she was somehow retiring from the business.  
"This feels like the end of one era and the beginning of something else. Scary and exciting, and now what?" Foster told the Globes audience. "I may never be up on this stage again, on any stage, for that matter."
After the awards Foster clarified that remark, saying:  "I could never stop acting. You'd have to drag me behind a team of horses. I'd like to be directing tomorrow. I'm more into it than I have ever been."
So which of those statements is closest to the truth? I'm going with the clarification. Her I-may-never-be-up-on-this-stage-or-any-stage line felt like an emotional and momentarily insecure remark made by a 50-year-old person who works in a mercilessly fickle business, particularly when it comes to middle-aged women.  Yes, by turning to directing and producing and making some extremely smart acting choices, Foster has avoided the forced exile that so many actresses suffer once they hit their 40s, but that doesn't mean she's immune to an occasional crisis of confidence, especially when pouring her heart out before the world. Also, lifetime achievement awards come with a built-in punchline: the implication that the best of one's career is in the rearview mirror.
Foster's back-stage clarification seems like a more level-headed parsing of her on-stage remark, and it's also in line with a comment she made to The Hollywood Reporter in 2011, when she was promoting The Beaver: 
"I've reached that point where I don't want to act very much anymore,"  Foster told the publication. "I am much more interested in holding off on acting, after 45 years as an actor. It's a long period of time to do the same thing."
That sounds to me like the early blueprint for Jodie Foster's next act. When an acting role that inspires her comes along, she'll take it, but, at the moment, directing moves the needle for her. According to IMDb,  Foster's future work commitments are sketchy, but after her role as Secretary Rhodes opposite Matt Damon in Elysium next summer, and her work behind the camera as the director of The Money Monster, which is in pre-production, she appears to be gravitating toward work behind the camera.
I do think we'll see Foster up on the stage at the Golden Globes, or the Oscars again, but the odds are it will be for her work as a director not as an actor.
MORE MOVIELINE COVERAGE OF THE GOLDEN GLOBES: 
[The Hollywood Reporter, Huffington Post, IMDb]
Follow Frank DiGiacomo on Twitter.
Follow Movieline on Twitter.