Do The Tommy Lee Jones! 5 Top Golden Globe Moments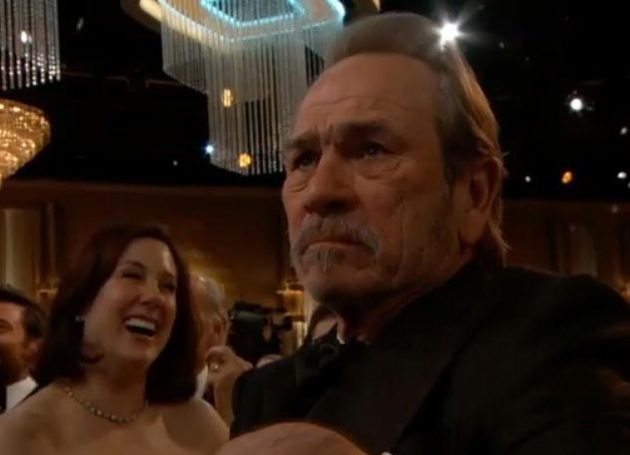 I can't say I loved last night's Golden Globe Awards in their entirety.  There was something unfocused and rather boilerplate about the telecast as a whole, but it did have its memorable moments. Here are my Top Five.  Memo to the Hollywood Foreign Press Association: Pay special attention to Number 2 if you want next year's awards to be an improvement. 
1. Jodie Foster's speech: Whether you liked the I'm-coming-out-by-telling-you-that-I've-been-out aspect of her speech, or thought that she should have been one of those brave souls — like Ellen DeGeneres  — who battled Hollywood homophobia by taking a stand when there was real career risk involved, Foster gave us a refreshing blast of emotional honesty, as well as and opinions about privacy and career, that we'll be dissecting for a long time. Her words were a welcome departure from all of the on-message speeches, like Jessica Chastain's comparison of Kathryn Bigelow to her character Maya, and Hugh Jackman's homage to his wife Deborra-Lee Furness — versions of which they've given at other awards ceremonies — that make statuette season unnecessarily repetitive and dull.
2. Amy Poehler and Tina Fey:  If you were keeping tabs on the Twitter-verse during the awards, one of the recurring cries out there was more Amy and Tina. Whoever hosts the Globes tends to disappear toward the middle of the show, and the Hollywood Foreign Press Association should fix that when they beg Poehler and Fey to come back 2014, which they should be doing right this very minute. I was a fan of Ricky Gervais' poke-in-the-eye style, but the ladies got the tone just right. With the exception of their opening James Cameron joke, they were sharp without being lacerating, and frickin' funny. (That said, I thought the Cameron joke was the best line of the night.)   Their audience cameos were most welcome, too.  Bring them back and make them a bigger part of the show. Despite a number of memorable moments, last night's awards suffered from a lack of cohesiveness that Fey and Poehler could have brought to the telecast if they'd just been on camera more.
3. Tommy Lee Jones' Scowl:  A number of websites credit Jones with the quote, "I do not have a sense of humor of any recognizable sort," and though his work in Men in Black and other movies suggests otherwise, the actor sure seemed to be in a foul mood at the Globes.  The first time I recognized Jones' award-winning scowl was when Will Ferrell and Kristen Wiig were doing their clueless Garth and Kat-style take on the Best  Actress Nominees for the Musical or Comedy category. (That funny but rather lengthy performance would have clocked in at Number 6 here if this list extended beyond 5.)  If you missed it,  Jones'  can be seen in the clip below while the comedy duo is discussing his co-star Meryl Streep's performance in Hope Springs, and he looks like he smells a really bad fart. But there could have been other factors at play, too. By that point, Jones had already lost out to Christoph Waltz in the Best Supporting Actor category, and I couldn't help but notice that he was not at the same table as director Steven Spielberg and his fellow Lincoln co-star Daniel Day-Lewis. Jones was also wearing the same dyspeptic look much later when the camera returned to him later in the telecast.  Whatever the reason for Jones' malaise, I applaud him for it. His scowl was as honest as his acting and almost as refreshing as Foster's speech.
4. Ben Affleck's Argo Wins:  For two reasons:  There's a lot of good will for Affleck out there and though the Golden Globe win doesn't make up for him being snubbed by the Academy in the Best Director category, it does ease the pain somewhat for everyone who was rooting for him. More significantly, Argo's Best Picture (Drama) win is yet another sign that Spielberg and Lincoln no longer have a lock on Best Director and Picture Oscars.
5. Bill Clinton's Appearance on Behalf of Lincoln: I can't say I was surprised when Clinton showed up.  He and a pre-Sugarland Express (but post-Duel)  Spielberg worked together on George McGovern's campaign and the director, who orchestrated the deal, according to Deadline, has been a longtime supporter of Clinton. What I loved most about the appearance is the mutual admiration society that exists between William Jefferson and Hollywood. He got a standing ovation from the crowd and one of the night's big laughs. After noting that the passage of the 13th Amendment required Lincoln to "make a lot of unsavory deals that had nothing to do with the big issue," the former president added:  "I wouldn't know anything about that."  They used to say Bill Clinton was a political rock star. Turns out he's been a movie star all along.
[Deadline]
Follow Frank DiGiacomo on Twitter. 
Follow Movieline on Twitter.