New 'Spring Breakers' Poster: A Girl And A Gun (And A Release Date!)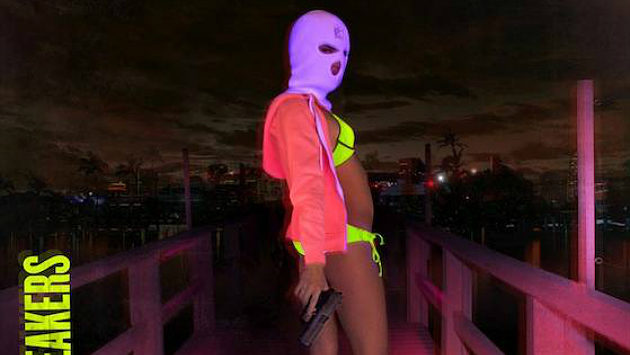 Forget all those "most anticipated movies of 2013" lists — there's only one major motion picture event I can't wait to get my mind blown by, and that's Harmony Korine's Spring Breakers. Tween idols on a crime spree, James Franco channeling Riff Raff, the ATL Twins, and love for the pop powerhouse that was '00s-era Britney Spears... who can resist? Are we not human beings? Today Vulture's got the U.S. poster debut to tease the Spring Breakers marketing wave that's coming in the next few months, which will have me floating in a fluorescent fever of anticipation until March.

Spring Breakers, which stars Ashley Benson, Selena Gomez, Vanessa Hudgens, and Rachel Korine as a foursome of coeds who decide to fund their spring break shenanigans by robbing a fast food restaurant, also reportedly has a release date of March 22 (NY/LA) via A24 Pictures.
Mark. Your. Calendars.
As for the new U.S. poster, there's a decidedly more dangerous, leering sensibility here than in the previous Girls Gone Wild-party time materials and sneak peeks we've seen; the obscuring ski mask makes it so that you can't tell which Spring Breaker belongs to that nubile body posing provocatively in a camera flash in the dark, exactly, and how do you feel about that, you perv?
To paraphrase Godard: All you need for a movie is a girl in a Day-Glo bikini and a gun.
(Head to Vulture for the full high-res poster debut.)
If you aren't familiar, here's the synopsis:
"SPRING BREAKERS tells the story of four sexy college girls as they plan to fund their spring break getaway by robbing a fast food joint. But that's only the beginning... At a motel room rager, fun reaches its legal limit and the girls are arrested and taken to jail. Hungover and clad only in bikinis, the girls appear before a judge but are bailed out unexpectedly by Alien (James Franco), an infamous local thug and amateur rapper who takes them under his wing and leads them on the wildest Spring Break trip in history. `Rough on the outside but with a soft soul on the inside, Alien wins over the hearts and dreams of the young Spring Breakers, and leads them on a Spring Break they never could have imagined."
Meanwhile, here's a more conventional second poster with cleavage and smiles that features the SB gang but also has weird googly Photoshopped James Franco eyes. (It's French, maybe they like that sort of thing?)
MORE ON SPRING BREAKERS:
Spring Breakers Smacks The Disney (Mostly) Out Of Selena Gomez In Venice
WATCH: First Clip From Spring Breakers, Harmony Korine's Hottie Crime Caper
Help Movieline Caption This Picture of James Franco in Cornrows for Harmony Korine's Spring Breakers
Follow Jen Yamato on Twitter.
Follow Movieline on Twitter.