Spring Breakers Smacks The Disney (Mostly) Out Of Selena Gomez In Venice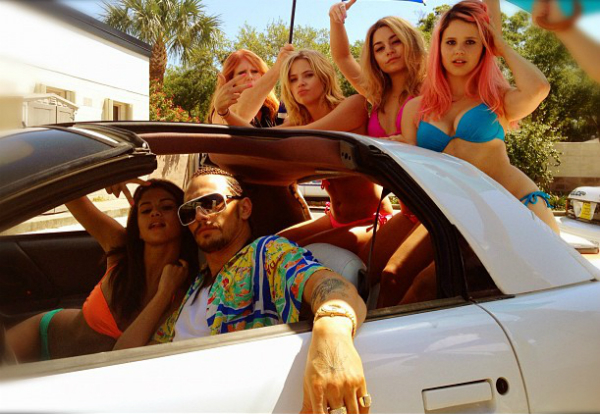 Harmony Korine's Spring Breakers premiere at the Toronto International Film Festival is still days away, but festival-goers in Venice will catch the world debut Wednesday and already the film is making some initial waves with "raunchy" and "raucous" being just two operative words to describe the feature about a quartet of sexy college girls whose plan to rob a fast food joint to fund their spring break getaway goes awry. And that is just the beginning. The film stars Selena Gomez, James Franco, Vanessa Hudgens and Heather Morris.

Franco plays their unexpected savior - so-to-speak. A local thug, he unexpectedly bails them out of jail and takes them under his wing and even manages to win them over, leading them into the wildest spring break ever and into a bit more crime. In Venice, Selena Gomez who once starred in the Emmy-winning Wizards of Waverly Place acknowledged that some of her fans may find her role a bit of a surprise.
"Obviously I know that coming from Disney Channel gives you kind of a brand in a way," the 20-year-old told reporters in Venice, according to Reuters.
"People do put a label on you. I know that I have younger fans, and this is an opportunity for myself to kind of grow. It is a little shocking, I think, for the younger audiences ... but I think it was right for me. I did things I didn't even know I could do on the movie and I do think it was because I trusted Harmony."
Gomez had apparently been asked to play an even racier character in the film, but opted for the comparatively more staid Faith. The 20 year-old actress said that her character in the film was her speed at least for now.
"I just didn't think I was ready for it, and I do think that Faith is right for me at this time in my career and in my life," she said in Venice. "Of course eventually I'm going to kind of work my way up to that I think."
Fluorescent bikinis, robberies and hard beach partying aside, The Telegraph said that Spring Breakers actually does not go "far enough," saying it is just another "mainstream Hollywood teen comedy." That is a surprise coming from the writer of 1995's seminal Kids and his last Toronto offering Trash Humpers. Others will undoubtedly have their say.
[Sources: Reuters, The Telegraph]