WATCH: Japanese 'Iron Man 3' Trailer Shows Stark Residence, Gwyneth Paltrow Getting Blowed Up Real Good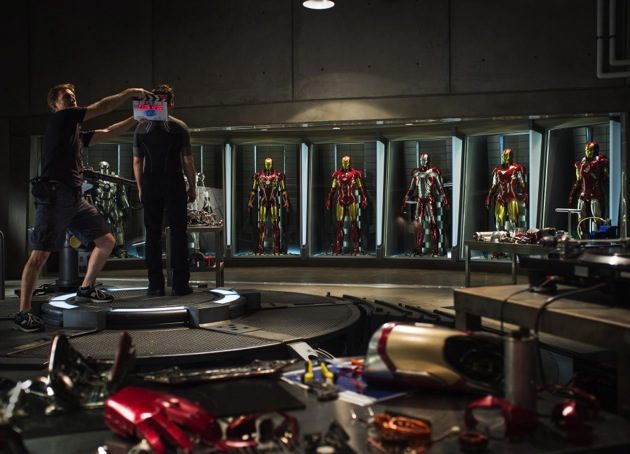 This Japanese Iron Man 3 trailer has surfaced, and though it doesn't offer much in the way of new footage, you do get an added glimpse of Pepper Potts (Gwyneth Paltrow) getting blown back by the blast of the helicopter attack on Tony Stark's U.S.S. Enterprise-like home.
Although Movies.com points out that that Marvel Studios President Kevin Feige recently went on record saying Iron Man 3 isn't so much a "serious" film as a serious exploration of Tony Stark's character, I still think that based upon this new image and the shot of a tortured-looking Pepper in the last trailer,  the arc of Paltrow's character is going to be crucial to the plot.
There's also that moment in the last trailer where Stark (Robert Downey Jr.) says: "I hope I can protect the one thing I can't live without."  Even though his use of the word "thing" is unfortunate, you know that's a speech about Pepper.
Oh, and one last non-Pepper point:  Unless Marvel is trying to make Ben Kingsley's indeterminately international  Mandarin character intentionally cheesy, it needs to lose that "Heroes--there is no such thing" line from future promotional clips. That's dialogue more befitting of Austin Powers than Iron Man. 
More on Iron Man 3: 
'Iron Man 3' Teaser-palooza! Trailer Foreshadows Pepper Potts' Peril
Marvel Studios Says Iron Man 3 Villain The Mandarin Isn't Chinese, He's International
Marvel Unmasks New 'Iron Man 3' Images
Follow Frank DiGiacomo on Twitter.
Follow Movieline on Twitter.