'Iron Man 3' Teaser-palooza! Trailer Foreshadows Pepper Potts' Peril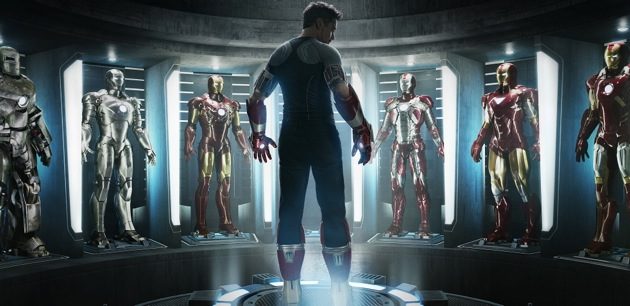 With the first Iron Man 3 trailer premiering on Tuesday, Disney whet franchise fans' appetites by releasing a 17-second teaser trailer and poster for the latest installment of the metallic Marvel superhero saga. The trailer is one of those blink-and-you-miss-it deals that raises more questions than it answers, but, based on  the movie-trailer-foreshadowing course I took in college, Pepper Potts (Gwyneth Paltrow)  will be in some definite danger come May. 
Next to Downey, Potts' character gets even more attention than what appears to be a from-the-rear shot of super-villain Mandarin, who will be played by Ben Kingsley. The weird thing is that when I first saw the Potts scene, I thought Paltrow was laughing. I figured this was trailer shorthand for establishing Potts/Paltrow as such a heart-lifting force in cynical Tony Stark's life that, well, something bad has to happen to her.
Turns out the teaser trailer is way more direct than that. Judging from Paltrow's sweaty appearance and confinement in some weird restraining device that looks like it was borrowed from a Six Flags roller coaster, Pepper's in a world of pain. Could it be [cue ominous music]...torture at the hands of the dastardly Mandarin? (More about him in a later post.) Either that, or maybe Paltrow's character is undergoing some kind of state-of-the-art psychological treatment in which she's just learned that Goop was seriously jank idea.
Regardless of the interpretation of Gwynnie's facial expression, my conclusion remains the same: She's going to be in harm's way in Iron Man 3, which jibes with the this-time-it's-personal synopsis that Disney released on Thursday. In case you've forgotten:
Marvel Studios' "Iron Man 3" pits brash-but-brilliant industrialist Tony Stark/Iron Man against an enemy whose reach knows no bounds. When Stark finds his personal world destroyed at his enemy's hands, he embarks on a harrowing quest to find those responsible. This journey, at every turn, will test his mettle. With his back against the wall, Stark is left to survive by his own devices, relying on his ingenuity and instincts to protect those closest to him. As he fights his way back, Stark discovers the answer to the question that has secretly haunted him: does the man make the suit or does the suit make the man?
Here's the teaser trailer. I hope tomorrow's longer version reveals more.
Follow Frank DiGiacomo on Twitter.
Follow Movieline on Twitter.