The Mystery Of Maya: Jessica Chastain Never Met The Agent She Plays In 'Zero Dark Thirty'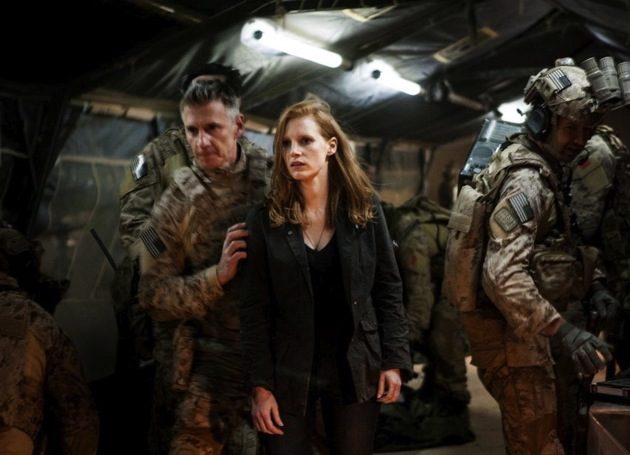 Maya is staying undercover. At a press conference for Zero Dark Thirty in New York on Tuesday, the film's star Jessica Chastain, who plays the indefatigable CIA operative that tracks down Osama bin Laden said she never met the agent who inspired her role.
"I never met Maya, because she's an undercover CIA agent — it would not have been a good thing to do," explained Chastain, who said she based her performance on the research she was given by the film's screenwriter, investigative journalist Mark Boal. That research included reading Lawrence Wright's The Looming Tower: Al-Qaeda and The Road to 9/11 and immersing herself in the surroundings of her onscreen job.
"I had the props person print out all of the photographs of the terrorists and I hung them in my room at the hotel," she said. (The production shot in Jordan and India.)  "So even when I'd come home from the set, they were always around me."
Given the unavailability of Maya, Chastain said, "I had to approach [the role] like any other character I've played," explained, adding that when it came to "questions that I couldn't answer through the research, I had to use my imagination, [director] Kathryn [Bigelow]'s imagination and Mark's to create a character that went along the lines that respected the real woman."
The actress, who's currently starring on Broadway in the period piece The Heiress, said that the fearless, intelligent and extremely independent character she plays in Zero Dark Thirty "represents this generation of woman, and that was really exciting."
Chastain has generated strong Oscar buzz for her intense, flinty portrayal of the always-analytical Maya, and she explained that her character's emotional reserve was, in many ways, antithetical to the work that she does. Describing herself as a "smiley," "very sensitive and very emotional girl,"  the red-headed beauty said that "as an actor, you spend your whole life trying to be emotional and keeping yourself emotionally open.  So, to find [Maya's] humanity within that arc was a great feat that would have been impossible without Kathryn and Mark's leadership."
Boal also refused to talk about the real-life inspirations for his characters saying that "many of them are still working and we take protecting their identities very seriously." Of Maya, he said only: "I want to emphasize that it's a character in a film, but based on a real person."
Bigelow, who also participated in the press conference, took pains to explain that the hero of Zero Dark Thirty is a woman thanks to history not a feminist agenda. "It's extraordinary that women were pivotal, but it's also that those were the facts. That's the hand we were dealt. And that's how we chose to deal with the story," Bigelow said. "The most important element of it was keeping the truth of the story. That's what drove me. That's what motivated me."
Related Stories:
'Zero Dark Thirty': Strong Women, Ambiguous Ethics Drive Bigelow's Oscar Pic
'Zero Dark Thirty' Takes Top National Board Of Review Honors
NY Film Critics Circle Spices Up Oscar Race With 'Zero Dark Thirty' Best Picture Pick
Follow Frank DiGiacomo on Twitter. 
Follow Movieline on Twitter.