'Zero Dark Thirty': Strong Women, Ambiguous Ethics Drive Bigelow's Oscar Pic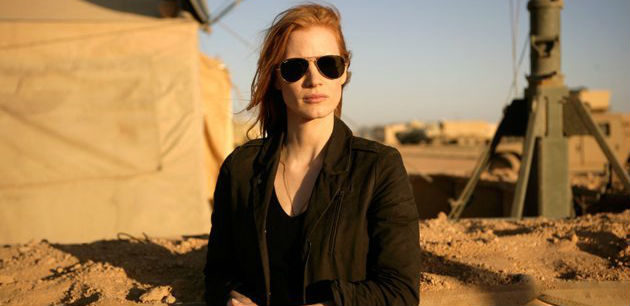 Kathryn Bigelow's ambitious Oscar contender Zero Dark Thirty started out as a film about the 2001 siege of Tora Bora hunting down al Qaeda leader Osama bin Laden, but as the Academy Award-winner told a rapt audience at the picture's buzz-building debut in Beverly Hills on Sunday, it changed direction in one quick, fateful instant.
"At about 10 o'clock at night on May 1, 2011 we realized we no longer had a project about the hunt for Osama bin Laden," Bigelow said at a packed post-screening Q&A at the Pacific Design Center, "because he was no longer living."

Bin Laden's death sent Bigelow and her Hurt Locker collaborator, screenwriter and journalist Mark Boal, scrambling to incorporate the update into Zero Dark Thirty, a tense semi-fictionalization of the intelligence efforts, and subsequent nighttime raid, that led to the death of bin Laden. Folding actual events and real-life figures into a decade-spanning account, Boal's script relives the dogged, desperate, and often brutal search for bin Laden through the eyes of a female agent named Maya (Jessica Chastain), a fictional composite based on real women who played key roles in the circuitous, years-long operations that sniffed out bin Laden's Pakistan hideout.
Chastain, who was a lock for an Oscar nomination before Zero Dark Thirty even debuted, owns the screen as the driven workaholic agent whose tireless fixation on a needle-in-a-haystack lead ultimately proves vital to finding bin Laden.  She looks a little too great doing it, too — a pillow-lipped, flame-haired beauty who manages to look luminous even when other characters are helpfully commenting that she's rundown and haggard. (Offscreen, as in her new GQ UK cover spread, Chastain still has to play the glamour game, as most actresses do in order to vie for awards gold.)
The men around Maya describe her as a "killer," and though she struggles at first to stomach the sight of a detainee being waterboarded for intel, within a few years she's adopted the torture tactics that made headlines out of Guantanamo. Boal's script goes heavy on the gender politics and too light on character development, portraying Maya as a woman so devoted to her mission that she has no time for silly things like friends, love, life balance.  She's a lone strong woman in a man's world, an awards-season narrative that pundits will predictably tether to Bigelow as they did when The Hurt Locker made its Oscar run.
Still, the girl power moments are utterly satisfying; when the overlooked Maya makes her presence and contribution known in a roomful of male colleagues by barking an expletive at Tony Soprano himself (James Gandolfini as CIA head Leon Panetta), who can care that she has virtually no back story of her own?
Pages: 1 2