'Zero Dark Thirty': Strong Women, Ambiguous Ethics Drive Bigelow's Oscar Pic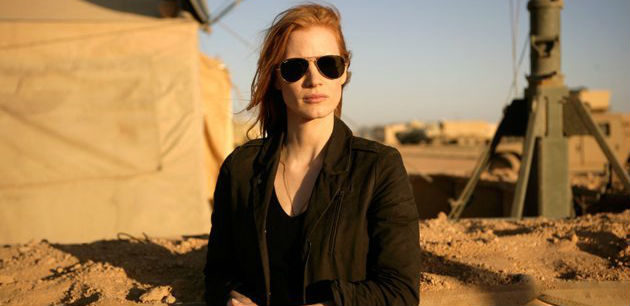 Bigelow courted Chastain after watching her in an early cut of Ralph Fiennes' Coriolanus ("The tenacity of her verbal agility is unparalleled," praised the director) and gave Jennifer Ehle (Pride and Prejudice, Contagion) the film's second strong female role, as a senior CIA analyst who shares Maya's drive to unearth bin Laden. "The women don't define themselves through men," Bigelow said, "other than one man." (Chastain credited another behind the scenes presence, producer Megan Ellison, with first introducing her to the project.)
The film was intensely shrouded in secrecy, even beyond most Hollywood norms, for good reason; Boal and Bigelow, who had been accused of receiving improper access to information from the Obama administration as research for Zero Dark Thirty, intentionally kept details of their bin Laden project under lock and key. Scripts were doled out sparsely among the cast so selectively that Chastain admitted she'd snuck other actors into her hotel room to read her copy of the screenplay.
"We became a political talking point and the subject of various inquiries," said Boal. "It was an election year and there was pressure to use the movie… but the speculation was ill-informed, if not totally wrong."
Zero Dark Thirty is much more about the personal than the political, anyhow. "There hasn't been much in the public record about what the people were like," said Boal of the real life figures represented in the film. But the tragedy of 9/11 and of other terrorist attacks around the globe and the desire to bring an end to bin Laden's global network also belongs to those in the audience, watching along as Bigelow and Boal reenact a decade of our collective fears and anxieties leading up to one of the most heavily covered world news events in modern history.
In exploring the extraordinary experience of those involved in the hunt for bin Laden, Zero Dark Thirty opens a door to examining our own need for justice as witnesses and survivors, at almost any cost. Its most difficult scene to watch comes early on, as Maya's senior officer — played by an excellent Jason Clarke, who's capable of switching from brutality to kindness on a dime — brutalizes a prisoner (A Prophet's Reda Kateb) believed to have information related to a terrorist operation. The film doesn't judge either torturer or torturee, allowing both men a fully-fledged and complex humanity of their own, but it does make a case for psychological and physical torture as a necessary evil in times of war.
Later as the assault on bin Laden's compound unfolds in the dead of night (photographed impressively, and almost entirely in gradations of shadows and dark, by Greig Fraser) the matter-of-fact depiction of the Navy SEAL operation unfolds in a hushed, eerie quiet. For anyone who was up late monitoring Twitter feeds and news accounts of that night in Abottabad, or pored over accounts that trickled out in the subsequent days and weeks, watching it recreated onscreen is transfixing — the accidental crash of a secret military stealth chopper, the super-powered soldier dog who accompanied the SEALs, and the unreal matter-of-factness of how bin Laden was shot, unarmed, by soldiers who almost couldn't believe they'd bagged Public Enemy #1, and died from a head wound in a bedroom fifteen minutes after the start of the attack.
As alarming as it is to recognize the entertainment value in seeing men and women shot one by one in their home in front of their children, or watch soldiers celebrate their kills for the greater good, Boal said they wanted to make a movie that would "capture a moment in time, and also stand up to time." In offering a relatively cold look at the gray-hued morality of being on the right side of justice, where the wrong hunch could irreparably destroy international relations and a presidency, not to mention innocent lives — but the collective hurt demands retribution and closure — Zero Dark Thirty does just that.
Zero Dark Thirty is in theaters December 19; read more here.
Follow Jen Yamato on Twitter.
Follow Movieline on Twitter.
Pages: 1 2