Jessica Chastain on Breakthroughs, Big Years and the Awards-Season Crash Course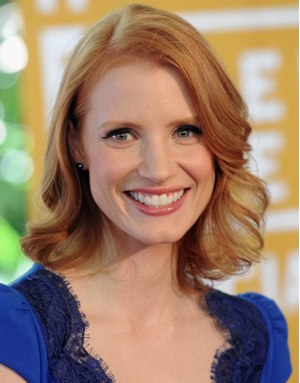 By virtually any Hollywood standard, even if another film featuring Jessica Chastain weren't released in 2011 after this week, she'd have already had a pretty phenomenally successful rookie year in the business.
It's kind of staggering, really: Months after her vivid if vexingly underseen screen debut in Jolene, there was no missing Chastain on the Croisette as she and The Tree of Life stormed Cannes en route to the Palme d'Or. By the end of summer she was co-starring in America's number-one film, The Help. And on Wednesday, her spy thriller The Debt finally reaches theaters, featuring Chastain as one-third of a Mossad team dispatched to capture one of WWII's most notorious Nazi fugitives in '60s-era East Berlin. (Helen Mirren plays her haunted character, Rachel Singer, in the present day.)
But The Debt commences a grand finale to die for: September brings Take Shelter, arguably the best of the batch, starring Chastain as the wife of a man (Michael Shannon) whose apocalyptic nightmares and visions threaten him and his family. Writer-director Jeff Nichols (Shotgun Stories) crafts a near-perfect allegory of social and economic storms slowly suffocating the life from an average middle American family; the film succeeds in large part due to Shannon and Chastain's performances as a couple witnessing the storm from the inside, expertly navigating the terrain between '70s-tinged drama and timeless psychological horror.
Beyond that, Chastain has Al Pacino's film adaptation of their stage collaboration Salome finally bowing at the Venice Film Festival, a role as a detective investigating a series of homicides in Texas Killing Fields, and closes out the year as the wife of Ralph Fiennes's title character in the Shakespeare updating Coriolanus. Next year, look out for her opposite Tom Hardy and Shia LaBeouf in director John Hillcoat's long-awaited adaptation of The Wettest County in the World -- not to mention wherever awards are handed out, with Tree of Life, Take Shelter, The Help and Coriolanus all in various proximities to the center of the Oscar universe.
Chastain recently phoned up Movieline to talk about her astounding 2011 to date -- and the whirlwind yet to come this fall.
You and I spoke last fall about Jolene, when your film profile was just starting to rise. Now that we're in the home stretch for your 2011 releases, how is the reality of the journey compared to how you imagined it?
I guess it is the home stretch! It's kind of a baptism by fire. I wasn't imagining all of the films coming out at once, so there's a lot of learning on the go for me when it comes to red carpets and premieres and doing a junket. Or even a radio tour -- this morning is my first time doing any of that. I'm learning the other side of the business very quickly. But the other thing is that I'm very proud of the films I'm in. I love talking about them, I love talking about the actors I got to work with, and the directors. That, to me, is great.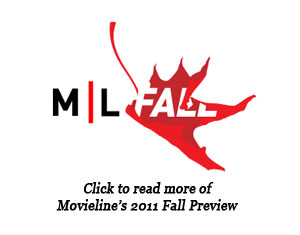 I know it's totally out of your hands, but as the films' release dates were scheduled and their order became clear, did you ever think things like, "Oh, no, folks -- it should be The Debt and then it should be The Help..." Kind of arranging performance the way we recommend novels by our favorite authors?
I didn't think of chronological order. But I was very happy that Tree of Life was pretty much the first thing people saw. Even though Salome was my first film, and we're taking that to Venice this year, Tree of Life was the one that changed the whole landscape of my career. I love the idea that that film got to be my introduction to the business in a big way. That was the only one I was really thinking about in chronological order. But The Help, The Debt, Take Shelter and Coriolanus and Salome and all those films, I didn't think about in order. I did think, "Oh, no, I don't want the films to compete against each other." I don't like the idea of The Help competing of The Debt. But I make the films for the experience of what it was to make the films: to be on set, to work with the filmmakers and the actors. Once I walk away form the film, I don't really think about what the result of the film is going to be or a release pattern for it. That's usually where I try to stay.
I'm glad Take Shelter came near the end -- saving the best for last, or almost last.
I love Take Shelter.
It's totally sublime. How did you get hooked up with the project?
Sarah Green produces for Terrence Malick, and she was the executive producer on Take Shelter. She spoke to Jeff Nichols about me, because I had just done Tree of Life. She had read the script, and she thought, "There's this girl that no one really knows yet, but she might be really great to play Samantha in Take Shelter." So I got sent Shotgun Stories, which I found to be brilliant. It was made for $53,000; it was Jeff Nichols's first film. I was floored by it. Then I got sent the script for Take Shelter, and I thought, "This is interesting." I sat down with him, and he said something to me that made me want to be in every one of his films. He basically said, "It's a movie about family and marriage and faith. It's not a movie about the end of the world, it's not about mental illness, it's not abut all those bells and whistles. The main idea of the film is faith. And there's a look at the end of the film between Samantha and Curtis, and if the look isn't right, then the whole film falls apart." When he said that to me, I was very intrigued. And I think you can see that in the film; it's not presented the typical way you might see a movie about mental illness or apocalyptic ideas. Jeff had his own language -- his own way of telling this story.
How do you recall your first meeting with Michael Shannon?
We met right before we started shooting, and I was really intimidated by him. I know him as a fantastic actor, of course, but he's a very intense actor. I've seen performances where he really is this huge presence, and talking so much with Jeff about how the film's about marriage, I realized that needed to be absolutely clear. My connection with Mike had to be very close and intimate when we were shooting.
So I met him the day before we started shooting. My biggest hurdle was that I needed to get over my intimidation by him. I had to get over any awkwardness I felt or any shyness I felt. So as soon as I met him, I said, "Hey!" And I ran up to him and gave him a big hug. I threw my arms around him. "It's nice to meet you!" I wanted him to know -- and wanted myself to know -- that we were on this journey together, and I could not be embarrassed or shy. Also, Samantha really rules the roost in that family. She wears the pants, she makes the decisions. So I had to come in there and take control.
I remember covering Shotgun Stories and the kind of brotherhood between Jeff and Michael. But this is your movie, too. How and where did you fit into their scenario?
You know, they already had a language when I showed up. They're like brothers: They tease each other, they can get very personal very fast, they don't need to worry about being polite. So they started with this great gift. And one of the first weeks we were shooting, I remember we were rehearsing a scene -- it was Mike and I in this scene -- and they were lighting it to shoot. And I'm sitting in the living room waiting, and I realize, "Where's Mike and Jeff?" They were kind of away talking about the scene. It happened a couple more times, and then I went into that kitchen and said, "You know, guys, if you're talking about the scene, I have to be here. I'm in the scene, too. I know you guys work together a lot and you're like brothers, but I'm a member of this family now, and you have to include me." They just looked at me with their mouths open, and they were like, "Oh my God, I'm so sorry!" [Laughs]
It changed things at that point. I don't think they realized they were doing that, and I think actually approaching them that way was very Samantha of me. That is something Samantha would do. "OK, cut it out. You've gotta include me."