'Hobbit' First Review: 48 FPS Is 'Eye-Popping,' But Watch Out For The Jar Jar Binks Of 'LOTR'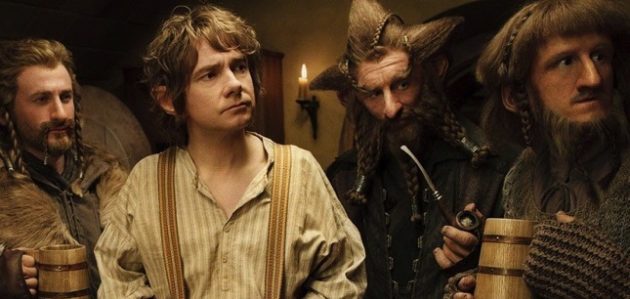 Peter Jackson's The Hobbit: An Unexpected Journey had its New Zealand premiere Wednesday, and although local press are still under embargo, the New York Daily News has burst out of the gate with the first published review of the anticipated Lord of the Rings follow-up. What's the early verdict on Jackson's groundbreaking 48 fps presentation, which was so publicly panned in previews?

Ethan Sacks' review is enthusiastic if not terrifically detailed, but let's cut to the elephant in the room: Will audiences reject the super-resolution 48 fps look of The Hobbit?
"Critics who saw a trailer earlier this year were unimpressed, but after a minute or two of adjusting, the higher resolution is eye-popping, similar to discovering HD television for the first time," Sacks writes.
Phew. Well, grain of salt: This is the first and only review out there now, so we'll see if other critics agree as The Hobbit begins screening stateside tomorrow.
As for the film itself, expect a cameo-filled romp that should satisfy Tolkien fans:
"Lighter and funnier than its Lord of the Rings predecessors, The Hobbit: An Unexpected Journey remains faithful to the fantasy world last seen in the 2003 Academy Award-winning The Lord of the Rings: The Return of the King."
There is just one little glaring notation; Sacks warns of one potentially grating character by dropping three of the most fearsome words in popular geekdom: Jar Jar Binks.
"Like all unexpected journeys, there are a few pitfalls along the way, most notably the tangential subplot surrounding bumbling wizard Radagast the Brown (Sylvester McCoy), whose buffoonery at times descends into Jar Jar Binks territory."
The Hobbit: An Unexpected Journey hits theaters December 14. Read more:
Wranglers Say 'Hobbit' Animals Suffered Gruesome Deaths On 'Death Trap'-Ridden Farm
The Hobbit, The Silmarillion, and 48 FPS: More Tolkien In Store for Peter Jackson?
The Hobbit 48 FPS Preview Divides Audiences at CinemaCon
Follow Jen Yamato on Twitter.
Follow Movieline on Twitter.