'Twilight' Spoiler Talk: 9 Things 'Breaking Dawn' Gets Right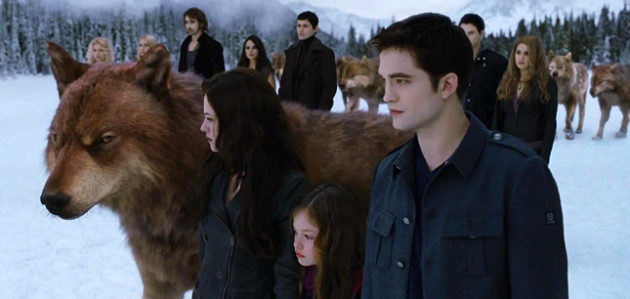 Bella and Edward Canoodling
Never did I imagine Bill Condon would sneak so much naughtiness into a Twilight film. So many make-outs. So much sex talk. That delicious-looking butter-colored orgasm! And, sweetest of all, that parting shot in the meadow, where it all began for Bella and Edward so many years ago.
New Castmembers
Two words: Lee Pace. LEE PACE!
Best. Dakota Fanning Moment. Ever.
Jane throws a beautiful blonde Immortal Child into a bonfire like it's a teddy bear, and that look on her face is priceless. When Dakota Fanning wins her lifetime achievement Oscar some day, I want this scene in the highlight reel.
We Need To Talk About Michael Sheen
THAT GIGGLE.
THOSE GIANT BLOOD-RED SAUCER EYES.
Best scenery chewing of the franchise. I live for Michael Sheen's weirdo Aro cackle.
The Fond Farewell
Non-fans already have no idea what the hell's going on in Breaking Dawn, with its wolves who fall in love with magical CGI babies and all the mutant powers and vampire marriage sex, so Condon threw in a few special things for the fans who made this one of the biggest franchises in film history. Extra points for folding those familiar musical motifs and themes from every Twilight movie to date into the score, and for tastefully working both Rachelle Lefevre and Bryce Dallas Howard into the "Hey, a round of applause for everyone who's ever been in a Twilight movie!" montage.
What did you think of Breaking Dawn, and the changes from page to screen? Anyone else down for a Twilight prequel starring Lee Pace as Garrett doing... just about anything?
READ MORE ON THE TWILIGHT SAGA: BREAKING DAWN PART II:
'Breaking Dawn''s Nikki Reed On Rosalie Hate Mail And Life As A 'Twilight' Celebrity
REVIEW: Enjoyably Over-The-Top 'Breaking Dawn - Part 2' Lacks A Certain Je Ne Suck Quoi
The 'Twilight' Scream-O-Meter: Notes From The 'Breaking Dawn 2' Premiere
Follow Jen Yamato on Twitter.
Follow Movieline on Twitter.
Pages: 1 2