Bill Condon On That 'Twilight' Twist And The Shocking Character Fates Of 'Breaking Dawn - Part 2'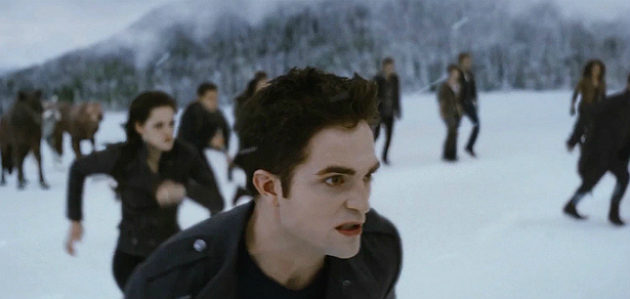 Did you have input into who lived and died?
Condon: Of course!
How did you choose which beloved characters would lose their heads?
Condon: It was interesting, and things would change — you want to get the biggest surprise, and I thought after Carlisle, Jasper was the biggest surprise. And on the other side, everybody gets wiped out; the Cullens do pretty well compared to them. I also really wanted to show Jane paining an animal, because sometimes in movies animals, especially dogs, are so defenseless that to watch them undergo pain can actually be more emotional. Seeing Seth and Leah go, I thought, was powerful.
It was incredibly sad, if you recognized Seth and Leah as wolves. Do you have a favorite moment in Breaking Dawn Part II?
Condon: I have so many of them but I have to say Michael Sheen's cackle when he sees Renesmee. Isn't that cool? The first time he did that it was such a great surprise, I was like, "Oh god, I love you."
With Michael Sheen, did you tell him to modulate his broadness — how big he went?
Condon: Yes — we did a version A and version B, and I would shoot the smaller and then the bigger version.
So Michael Sheen's Aro cackle in the movie, on a scale of 1 to 10, is…
Condon: That cackle that is in the movie is the smaller version. [Laughs] It's true!
You've cited the old school Hammer horror films as a tonal reference for parts of Breaking Dawn – in what ways did you hope to capture that feeling?
Condon: When I read this, I always thought that these vampires that get collected from around the world are like the vampires I grew up with. Alistair, that whole crowd — that's the British Hammer vampire. Obviously we've got the Draculas. There's The Awakening in that whole Egyptian culture. So it felt to me even though Alec isn't part of that, you're in London in that scene in the alley — God, just go full-out Hammer with this. Even in the costumes and the way we shot it, Michael Sheen with the other guys behind him, it really to me has the feel of a Christopher Lee movie.
I love that, and I love the fact that you'll now get a lot of Twilight fans Googling "Hammer horror." Now, which scenes and moments didn't make the final cut that you wish you could have squeezed in?
Condon: I know fans of the novel are going to be disappointed in this, but Garrett has a big speech on the field, during which the mist comes at him and Bella stops it. It was great to do, and Lee Pace was amazing, but we spent almost a half hour on that field and to spend another five minutes doing something that was a kind of repeat of what she'd already done with Jane's pain… that was a shame, that was cut. And a couple of other scenes — we did a "Bella training to fight" scene, and that was fun. It'll be on the DVD. But it just came at the wrong time. Again, it seemed a little redundant of her learning how to use her shield.
In the showdown between Aro and the Volturi and the Cullens and their witnesses one might read certain real world allusions to power-grabbing, war-mongering, fear-based propagandizing in modern politics. How much should people take away from these themes?
Condon: The part that resonated for me, being on the liberal side of things, was Aro's tactics on that field: The fact that when all the facts were facing him and it was clear no crime had been committed, he just started to play on people's fears. The idea of, We don't know — she might be a threat, and therefore let us do something. That feels like a familiar political tactic that you see playing out right now. So that does resonate for me; the more complicated lifestyle issues, I don't think so much.
Do you already have plans set for post-Twilight projects?
Condon: I can't talk about it yet but they're very close — an inch away. I've been thinking about this for so long, it's exciting to think about something new. I definitely have a project set for the end of the year, which is I'm going to direct a revival of a show called Sideshow, about Siamese twins Daisy and Violet Hilton, who were in the movie Freaks. It's a wonderful musical. We've done a lot of work to it, and it's going to open at the La Jolla Center and then go to the Kennedy Center in D.C., and I hope a lot of Twi-hards come to it.
READ MORE ON THE TWILIGHT SAGA: BREAKING DAWN PART II:
'Twilight' Spoiler Talk: 9 Things 'Breaking Dawn' Gets Right
'Breaking Dawn''s Nikki Reed On Rosalie Hate Mail And Life As A 'Twilight' Celebrity
REVIEW: Enjoyably Over-The-Top 'Breaking Dawn - Part 2' Lacks A Certain Je Ne Suck Quoi
Follow Jen Yamato on Twitter.
Follow Movieline on Twitter.
Pages: 1 2