'Getaway' First Look: Selena Gomez, Computer Hacker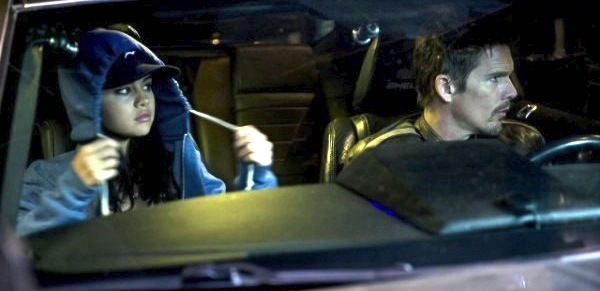 It appears that Selena Gomez is dipping into another Mickey-less role, solidifying her catapult into adulthood. Gomez is starring with Ethan Hawke in a film titled Getaway. A photo hit the internet today with the hoodied (with baseball cap) former child-star in the front seat of a vehicle with Hawke in the pic.

Also starring Jon Voight (that's an interesting one!), Paul Freeman and Bruce Payne, the film is an Action-Crime feature that is set for release next August. OnTheFlix said it is "about a retired race car driver who tries to track down his kidnapped wife with the help of a younger female computer hacker." Gomez mentioned that she's filming the pic in Bulgaria.
Speaking about another film she recently completed, Spring Breakers, at the Toronto International Film Festival in September, Gomez said she is eager to move on to more mature roles.
When my series ended, I was invited to do a couple of films," said the former Wizards of Waverly Place star in Toronto. "I thought the independent film route would be best for me…The biggest challenge is that I have a younger generation of fans who follow my music, shows and clothing line."
Continuing about her fans she added: "Everything I do is for them and this may not be so accessible to them. But the other side is that people put you in a box and it is a challenge for me because some may not take me seriously because of the brand I have - that I'm fortunate to have - but it's also about doing things that I just want to do for me."
Starring James Franco and Vanessa Hudgens, that Harmony Korine-directed Spring Breakers revolves around several college girls who get arrested after robbing a restaurant in order to fund their spring break vacation. But, they're bailed out by a drug and arms dealer who wants them to do some dirty work.
RELATED POSTS:
Selena Gomez, Vanessa Hudgens & James Franco Get Raw(ish) In Spring Breakers: 'We Freed Ourselves'
Spring Breakers Smacks The Disney (Mostly) Out Of Selena Gomez In Venice
WATCH: First Clip From Spring Breakers, Harmony Korine's Hottie Crime Caper
[Sources: The Playlist, OntheFlix]