Selena Gomez, Vanessa Hudgens & James Franco Get Raw(ish) In Spring Breakers: 'We Freed Ourselves'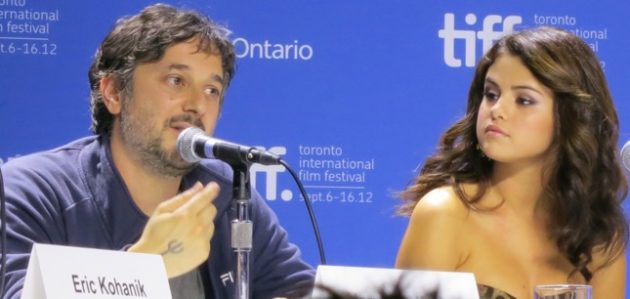 Prancing around in a fluorescent bikini while going on a partying and crime-fueled rampage through the so-called "red neck riviera" — that could be the one sentence log-line for Toronto's Spring Breakers, which arrived in North America after its first premiere last week in Venice. Fascination with former Disney star Selena Gomez's romp through the new film in a not-quite-so-squeaky-clean role continued on this side of the pond but Gomez, director Harmony Korine and fellow stars James Franco, Vanessa Hudgens, Ashley Benson and Rachel Korine provided a few racy laughs of their own in Canada's biggest city Friday. Harmony Korine even joked that a few rugged gentlemen on spring break were taken by Gomez's presence while they shot the feature. "All these thick-necked jock dudes were rubbing up against Selena," he said.

The cast said they had themselves never been on a spring break, but Harmony Korine surrounded the cast with people doing just that while they were in St. Petersburg, FL in what Rachel Korine described as a "youth rite of passage."
But before heading to the shoot and to those soon-to-be-famous bikinis, the women in the film did a bit of a pre-party get-together to set the mood for the film and at the request of Harmony Korine. Vanessa Hudgens hinted that the group likely took on some of the trappings of spring break before heading off for their celluloid version in front of the camera. "In the beginning, we hung out before shooting. We were girls being completely raw and we freed ourselves and did what we wanted. We were able to be completely free and push each other."
James Franco first came on board on the film, speaking with Korine about the concept well before actual shooting began. He crafted his character, who is a local thug that bails the girls out of jail after they hold up a dining joint in order to fund their spring break, by using props and music sent over by Korine.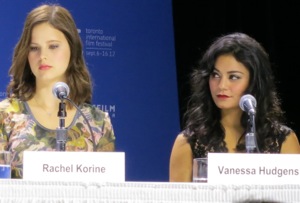 "Harmony is a master at finding locations and people and having them add texture [to his films]," he said. "He sent me music and images which helped me create my character. Looks and surfaces are very important in this film."
"But I think we made him our bitch!" Hudgens shot back with a laugh.
As in Venice, Gomez was peppered with questions about her Disney entree to stardom and how a film like Spring Breakers will factor into her fan base, but the 20 year-old actress said that she decided to go for it, while acknowledging the role may be off-putting for some of her young admirers.
"When my series ended, I was invited to do a couple of films. I thought the independent film route would be best for me, and I decided that if I'm going to do it, I'd like to do it with Harmony." Continuing she said, "The biggest challenge is that I have a younger generation of fans who follow my music, shows and clothing line. Everything I do is for them and this may not be so accessible to them. But the other side is that people put you in a box and it is a challenge for me because some may not take me seriously because of the brand I have — that I'm fortunate to have — but it's also about doing things that I just want to do for me."
Gomez was the first of the women cast in the film which Harmony Korine said he imagined long before writing the screenplay. He auditioned Gomez in his living room in Nashville, TN but worried that he might scare her off before they had a chance to work together.
"Selena auditioned in my living room. When she came down to Nashville, I flipped over all of this crazy art I have in my house because I didn't want to spook her," he said.
"I think he thought I was super, super Christian so he was hiding everything," laughed Gomez.
Read more from the Toronto Film Fest.
Follow Brian Brooks on Twitter.
Follow Movieline on Twitter.