What If James Franco Had Starred In PTA's 'The Master'?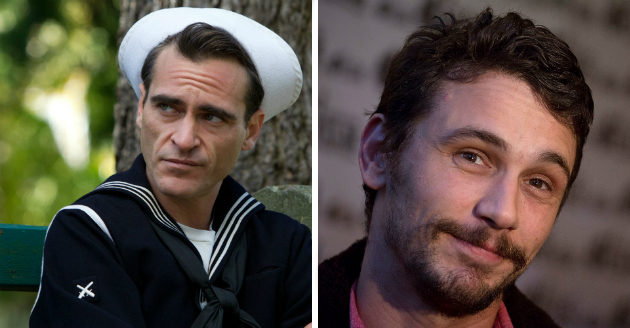 James Franco as Freddie Quell? It almost happened, the actor revealed during a panel at the Austin Film Festival, until The Master director, Paul Thomas Anderson, asked Franco one little question: "Do you feel like you can do this?"

Franco's confidence, he says, is what did him in, as he and Anderson chatted about The Master's troubled, potion-drinking veteran, before Joaquin Phoenix came into the picture.
"Paul Thomas Anderson was getting ready to make The Master and he called me and we met," Franco said (as reported by EW). "And we talked and we ended up meeting for coffee. We didn't talk about The Master but I met him to chat. And then he kept calling me and he wanted to talk and talk but I didn't know what he wanted to talk about because we'd always just kind of bulls— on the phone."
He continued: "So then when he started talking about the role he said, 'Do you feel like you can do this?' And I said 'Yeah, totally. Look, I think you're like the best American director. I feel confident. I know I can do this.' And he said to me, 'But I want this to scare you. I want this role, going on this journey to scare you.' And I was like 'Scare?! I know I can do it."
"And so, incredible movie, needless to say I didn't get the part. I guess I wasn't scared enough or something, or whatever reason I didn't get it. And then when I saw Joaquin in that movie I realized 'Oh, he wanted me to like lose my mind.'"
Yes, James Franco! PTA wanted you to completely lose your shit, lick windows, and freak out inside of a prison cell like a caged animal in the name of art. It's hard to envision anyone other than the feral, Ed Grimley-esque Phoenix as Freddie Quell but I imagine Franco's version would've been a lot more smiley, and a lot less scary.
That said: I would in a heartbeat watch two filmed hours of PTA and James Franco calling each other for phone dates.
Concluding his Master story, Franco added a zinger at the Oscars, to which he famously contributed one of the more bizarre hosting performances in awards history. "The Oscars was challenging because the material they gave me was CRAP!" Guess Franco and Phoenix have one more thing in common.
[via EW]
Follow Jen Yamato on Twitter.
Follow Movieline on Twitter.