'Rolling Stones Charlie Is My Darling' Contest: Win Tickets To L.A. Screening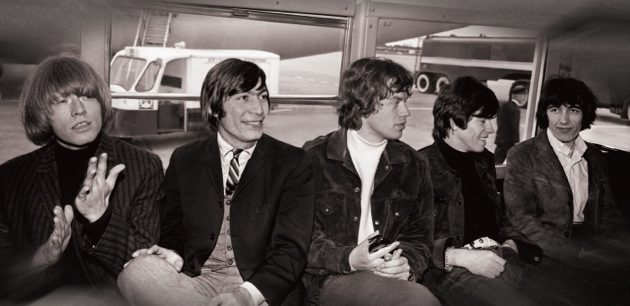 So, you can't move like Jagger, but can you write a song like Jagger and Richards?  If you think you've got what it takes, you could win one of five pairs of tickets Movieline is giving away to the midnight screening of The Rolling Stones Charlie Is My Darling – Ireland 1965 documentary at Grauman's Chinese Theater on Oct. 24.
The hour-long road trip film, which was inspired by The Beatles' classic 1964 film A Hard Day's Night, came together when the Stones manager Andrew Loog Oldham hired director Peter Whitehead to shoot and music producer and engineer Glyn Johns to record the first professionally filmed concert performances of the band during a two-city tour of Ireland.
The footage, which includes the first live performance of "(I Can't Get No) Satisfaction" caught on film, was never officially released or aired and sat largely untouched in film cans for more than 40 years. But now that it's been rediscovered, it's about to become available to the public.  After premiering at the New York Film Festival in September, Charlie Is My Darling — which features previously unseen performances of six complete Stones songs including "The Last Time" and "Time Is On My Side" — will be released on DVD and Blu-Ray on Nov. 6.
If you live in the Los Angeles area and can't wait until next month, here's what you need to do: Take a verse or chorus from one of your favorite Stones songs and rewrite it.  Post the original verse and the song's title followed by your reworking in the comments section, and I'll choose the best five submissions by 3 p.m. EST on Monday, Oct. 22.
Here's an example:
"Have You Seen Your Mother, Baby (Standing in the Shadow)?"
Original:
Have you seen your lover, baby, standing in the shadow?
Has he had another baby, standing in the shadow?
Baby, where have you been all your life?
Talking about all the people who should try anything twice
Reworked:
Have you seen your stalker, baby, standing in the shadow?
Has he violated his TRO, baby, standing in the shadow?
Baby, he wants to know where have you been all his life
Time to hit the panic room, looks like he's got a knife
Got it?  Make sure to leave your email in the comments box, too, so if you win we can contact you with details on how to pick up your tickets. Remember, you've got to be able to get yourself to Grauman's on your own steam.
Now get writing, because time is not on your side. For inspiration, check out the trailer:
Follow Frank DiGiacomo on Twitter.
Follow Movieline on Twitter.