At Cannes: Mick Jagger Talks Weed, Promotes Stones in Exile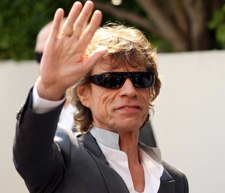 If an award were to be given at Cannes for the audience's favorite film, it just might go to director Stephen Kijak's Stones in Exile, which premiered here at Director's Fortnight. It didn't hurt that Mick Jagger himself dropped in to revisit those hazy days of nearly 40 years past.
Just when we thought we couldn't possibly learn anything more about the Rolling Stones (e.g., Scorsese's Shine a Light, the Maysles' Gimme Shelter, Godard's One Plus One, countless behind-the-scenes books, anecdotes), comes a brand-new documentary centered around the recording sessions for the 1971 Stones record Exile on Main Street. Conveniently, the film's release coincides with a rerelease of the double album, which was recorded in the South of France at the massive villa Nellcôte in the seaside town of Villefranche-sur-Mer.
The hour-long documentary boasts "75 percent never-before-seen Rolling Stones footage." Though that figure can't be verified -- I didn't have a calculator -- that seemed about right. Stones in Exile came to light at the directive of Rolling Stones, Inc., Keith Richards and Sir Mick, and they tapped American filmmaker Stephen Kijak to scour the Stones vault for heretofore unseen footage shot at the villa; much of it comes from more than 20 hours of outtakes from Robert Frank's rare Stones documentary Cocksucker Blues.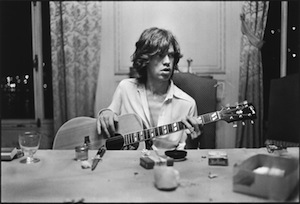 Likely, the Glimmer Twins' choice of Kijak was based more on his last work -- a documentary on musician Scott Walker -- than his work as a director on episodes of Bravo's Queer Eye.
The result isn't just for fans only. It's a fascinating look at the it's-only-rock-'n'-roll goings-on in the large, decrepit Keith Richards rental. What you come away with at the end of the movie is a question: How is it possible that no one died of a drug overdose? Whiskey, cocaine, marijuana, speed (for an appetizer) -- all consumed like a Nathan's hot-dog-eating contest. I worried I'd get lung cancer just watching the film.
Just before the screening, Mick came out in sneakers to address the cheering crowd. He first began his opening remarks in stilted French. Reminiscing about the time when the record was made, he said, "We were young, good-looking and stupid. Now, we're just stupid"; the audience ate it up.
Jagger addressed the debauchery at an impromptu Q&A following the screening. Asked about how one records an album on drugs. "It's quite easy really," he said to laughter. "It can be done. But I'm not saying it's really great to smoke pot and sing." Clearly he's wrong, as Exile on Main Street is now believed among many to be the Stones finest record.